C'ai Threnalli was an Abednedo male pilot who flew in the Resistance Starfighter Corps of the Resistance during their war with the First Order.
Biography
Star Wars: Episode IX The Rise of SkywalkerC'ai to Poe Dameron, after noticing that the Steadfast had gone down
Having previously flown for the New Republic, Threnalli was one of several Abednedo who joined Leia's Resistance movement, as his people had been early supporters of the General. He was known to be an X-wing pilot by choice, but also received cross-training in other types such as the B-wing and Y-wing models.[4]
Following the Battle of Starkiller Base in the year 34 ABY,[8] Threnalli was amongst the personnel in the Resistance base on the planet D'Qar who waved off the YT-1300 light freighter known as the Millennium Falcon, piloted by Rey and her passengers, as it set off to find the missing Jedi Master Luke Skywalker on the planet Ahch-To.[2]
Shortly after the Resistance evacuated the base on D'Qar, Threnalli flew as Commander Poe Dameron's wingman.[1] He remained loyal to Dameron, joining the mutiny against Vice Admiral Amilyn Holdo along with at least two others. However, he was stunned, along with Dameron's other allies, by Holdo after she caused a distraction.[6]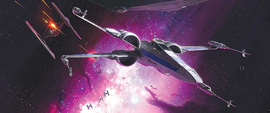 Threnalli was aboard the Resistance transports that escaped the Raddus and later participated in the Battle of Crait, managing to survive with only a small number of other pilots. He escaped aboard the Millennium Falcon along with the few Resistance survivors, and hugged Dameron.[6]

In 35 ABY,[9] Threnalli flew his T-70 in the Battle of Exegol against the Sith Eternal forces. After the battle, he returned to Ajan Kloss and celebrated with the rest of the Resistance.[7]
Personality and traits
Behind the scenes
Appearances
Sources
Notes and references
External links