Spider-Man: No Way Home Trailer Dropped - The Loop
Play Sound
The CSS-1 Corellian Star Shuttle, also known as the Republic shuttle, was a starship designed to carry a large number of ambassadors on missions throughout the galaxy.
Characteristics
[
]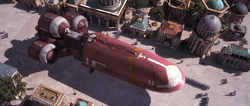 The CSS-1 Corellian Star Shuttle was more spacious and could carry more people compared to the Consular-class cruiser. It also featured a large meeting room. Because they were diplomatic vessels, Star Shuttles lacked weapons but boasted a powerful deflector shield.
The class was manufactured by the famous Corellian Engineering Corporation, which manufactured most of the vessels in use by the Galactic Republic. They were less versatile than most CEC designs, in part due to their extensive armor plating.
The transport had a crew of one captain, two co-pilots, two communications officers, and three engineers. It could also carry about 200 passengers and 900 metric tons.
History
[
]
Star Shuttles served the Republic in its last decades as diplomatic vessels, but some ships were modified for military service and were equipped with at least two turbolasers. They served in the Judicial Forces and fought in the Stark Hyperspace War, the Yinchorri Uprising, and the Clone Wars. The Corellian Star Shuttle Perpetuus transported Chancellor Palpatine to Theed following the Battle of Naboo.
After the transformation of the Republic into an Empire, many Star Shuttles ended up in private hands.[1] At least one Star Shuttle was used to make up a secret retreat in 137 ABY.[2]
Behind the scenes
[
]
On his blog, Dan Wallace revealed that Palpatine's shuttle was named Perpetuus in The Essential Guide to Episode I. However, since the book was never released, the name is not official.[3] Suns of Fortune gave the Corellian Star Shuttle the full name of "CSS-1 Corellian Star Shuttle," although it misspelled it as CCS-8 in one location.[4]
Appearances
[
]
Sources
[
]
Notes and references
[
]
↑  "Lostwords: The Essential Guide to Episode I" – Continuity, Criticisms, and Captain Panaka, Daniel Wallace's StarWars.com Blog (content now obsolete; archived from the original)