During the Clone Wars, Duros bounty hunter Cad Bane utilized a Munificent-class star frigate loaned to him by the Trade Federation and the Confederacy of Independent Systems.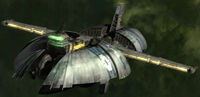 This frigate participated in the Battle of Devaron, having several Banking Clan frigates escort it out of the system. The Resolute then entered the system, where it and the other ships battled. Bane ordered his ship out of the battle zone and to jump to hyperspace. While leaving, one of the engines was destroyed by the opposing cruiser. His ship crippled, Bane ordered all memory systems erased, the self-destruct system started, all of the ship's controls transferred to Bane's wrist-com and the bridge to be defended. Anakin Skywalker, Ahsoka Tano, and Captain Rex boarded the frigate to recover a holocron, stolen by Bane. Battle ensued in the ship's gun deck. Fuel cells were scattered and a battle droid accidentally shot one, triggering a fire that subsequently detonated the fuel supply. Rex, Skywalker, Tano and Denal sought to flee the doomed vessel aboard a Neimoidian shuttle; however, Denal and Koho were killed by Bane. The Duros donned Denal's armor and boarded the shuttle, seconds before his frigate exploded.
Appearances
Edit
Community content is available under
CC-BY-SA
unless otherwise noted.