A camtono was a kind of security container for storing valuables. Notable users of camtonos included "the Client" and Willrow Hood.
Description
Edit
The camtono was a cylindrical box consisting of a fixed frame, three movable panels hinged at the bottom and locked shut at the top, and a "lid" part. That lid boasted control buttons and a rotary cylindric piece featuring a handle. Buttons disengaged the locks, causing the side panels to fall open and thus granting access to the contents.[1]
Camtonos could notably be used to store precious metals or spice. They could be easily transported by holding the handle,[1] although some people prefered to tuck it under their arm.[2]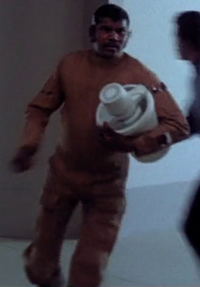 A male human named Willrow Hood[3] was seen transporting a camtono under his arm at multiple points in his life,[4][5] including when Baron Administrator Lando Calrissian told the people of Cloud City to evacuate due to the Imperial threat.[2]
In around 9 ABY,[6] "the Client" hired the bounty hunter known as "the Mandalorian" to recover a child on the planet Arvala-7 in exchange for a camtono of beskar.[7] Having accomplished the mission, the Mandalorian received the beskar and transported it to his tribe's covert, where he provided the contents inside to the Armorer to forge a full cuirass. Later, when the Mandalorian expressed doubts about the ethics of the Client, Greef Karga, head of the Bounty Hunters' Guild, suggested that he should forget about it and buy himself a camtono of spice.[1]
Behind the scenes
Edit
Wilrow Hood's camtono prop was a an unaltered ice-cream maker. This was noticed by fans, and the character apparently fleeing Cloud City clutching an ice-cream machine developed a humorous cult following.[8][9]
The word "Camtono" may possibly be a reference to a viral video where a infant girl tries to pronounce ice-cream but instead says "Camtono".[10][11]
Appearances
Edit
Notes and references
Edit
Community content is available under
CC-BY-SA
unless otherwise noted.