Jurassic World: Dominion Dominates Fandom Wikis - The Loop
Play Sound
"We cannot get past their cannons, sir."
"Cannons? This will never do. We must pull back and set up our deflector shields."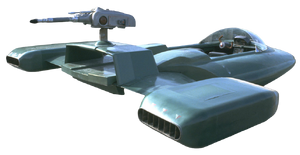 A cannon was a type of weapon employed to fire powerful projectiles or energy bursts. They were often employed on starships, though others could be carried.
The laser cannon was a powerful form of cannon employed on many starships, as well as available as a personal cannon that could be carried. Another such weapon, the ion cannon, could be used to fire focused particles or plasma.[2] The All Terrain Tactical Enforcer and the AT-AP both have a large heavy projectile cannon.[3]
Appearances
[
]
Non-canon appearances
[
]
Sources
[
]
AT-TE walker in the Encyclopedia (content now obsolete; backup link)
Gian speeder in the Encyclopedia (content now obsolete; backup link)
Imperial shuttle in the Encyclopedia (content now obsolete; backup link)
Imperial Star Destroyer in the Encyclopedia (content now obsolete; backup link)
Malevolence in the Encyclopedia (content now obsolete; backup link)
Mon Calamari star cruiser in the Encyclopedia (content now obsolete; backup link)
Pirate Speeder Tank in the Encyclopedia (content now obsolete; backup link)
Republic attack gunship in the Encyclopedia (content now obsolete; backup link)
Separatist dreadnought in the Encyclopedia (content now obsolete; backup link)
stealth ship in the Encyclopedia (content now obsolete; backup link)
super battle droid in the Encyclopedia (content now obsolete; backup link)
TIE fighter in the Encyclopedia (content now obsolete; backup link)
Trident drill assault craft in the Encyclopedia (content now obsolete; backup link)
Umbaran hover tank in the Encyclopedia (content now obsolete; backup link)
Umbaran MHC in the Encyclopedia (content now obsolete; backup link)
Y-wing starfighter in the Encyclopedia (content now obsolete; backup link)
Star Wars Helmet Collection 12 (Databank A-Z: Cosians–Dagobah; Helmets: Imperial Gunner; Weapons & Uniforms: The Geonosians)
Star Wars Helmet Collection 22 (Databank A-Z: Gungans–Rako Hardeen; Highlights of the Saga: The Battle of Geonosis)
Star Wars Helmet Collection 23 (Databank A-Z: Hassk Triplets–Holograms; Weapons & Uniforms: Princess Leia Organa)
Star Wars Helmet Collection 26 (Helmets: Y-wing Pilot; Highlights of the Saga: Fall of the Malevolence)
Star Wars: Build Your Own R2-D2 10 (Building the Galaxy: Visual Effects Part 1) (Picture only)
Forces of Destiny: Tales of Hope & Courage (Picture only)
Star Wars Helmet Collection 32 (Databank A-Z: Kel Dor–Ki-Adi-Mundi; Helmets: Hoth Rebel Soldier; Weapons & Uniforms: Echo Base)
Star Wars Helmet Collection 35 (Databank A-Z: Kyber Crystals–Laser Cannons; Helmets: 212th Attack Battalion; Weapons & Uniforms: Ready for Action)
Star Wars Helmet Collection 37 (Helmets: AT-RT Drivers; Weapons & Uniforms: Republic Ground Vehicles; Highlights of the Saga: The Battle of Ryloth)
Star Wars Helmet Collection 40 (Databank A-Z: Moraband–Muftak; Helmets: Clone Pilot; Highlights of the Saga: Battle on Geonosis)
Star Wars Helmet Collection 45 (Databank A-Z: Petranaki Arena–Proton Torpedoes; Helmets: Odd Ball; Weapons & Uniforms: Republic Pilots)
Star Wars Helmet Collection 48 (Databank A-Z: Sabe–The Separatist Council; Weapons & Uniforms: First Order Fleet Personnel)
Star Wars Helmet Collection 50 (Helmets: Jess Pava) (Picture only)
Star Wars Helmet Collection 51 (Databank A-Z: Soulless One–Super Battle Droids; Helmets: The Grand Inquisitor)
Star Wars: Legion – Core Set (Card: AT-RT Laser Cannon) (Reissued in AT-RT Unit Expansion)
Star Wars: X-Wing Second Edition – BTL-A4 Y-Wing Expansion Pack (Card: Ion Cannon Turret) (Reissued in Galactic Empire Conversion Kit, Rebel Alliance Conversion Kit, Scum and Villainy Conversion Kit, BTL-B Y-Wing Expansion Pack)
Star Wars: X-Wing Second Edition – Galactic Empire Conversion Kit (Card: Heavy Laser Cannon) (Reissued in Rebel Alliance Conversion Kit, Scum and Villainy Conversion Kit, Slave I Expansion Pack, First Order Conversion Kit, Resistance Conversion Kit, Scum and Villainy Conversion Kit, A/SF-01 B-Wing Expansion Pack, Huge Ship Conversion Kit, C-ROC Cruiser Expansion Pack, TIE/rb Heavy Expansion Pack)
Star Wars: X-Wing Second Edition – Galactic Empire Conversion Kit (Card: Ion Cannon) (Reissued in Rebel Alliance Conversion Kit, Scum and Villainy Conversion Kit, First Order Conversion Kit, Resistance Conversion Kit, Sith Infiltrator Expansion Pack, A/SF-01 B-Wing Expansion Pack, M3-A Interceptor Expansion Pack, Heralds of Hope Squadron Pack, TIE/rb Heavy Expansion Pack)
Star Wars: Build Your Own X-Wing 1 (Creating a Starship Fleet: Ralph McQuarrie – The Man Who Drew Star Wars; Starfighter Aces: Luke Skywalker – Savior of the Rebel Alliance; Rocket Science: Fighter Design; Build the X-Wing: Cockpit Canopy, Cannon, and Astromech Droid (R2-D2))
Star Wars Helmet Collection 56 (Databank A-Z: Tractor Beams–Tri-Fighters; Weapons & Uniforms: Rogue One Commandos)
Star Wars Helmet Collection 57 (Databank A-Z: Trident Assault Ship–Turbolasers; Helmets: Wedge Antilles)
Star Wars Helmet Collection 67 (Databank A-Z: Vibroblades–Cikatro Vizago; Weapons & Uniforms: Blade Squadron; Highlights of the Saga: Birth of the Blade Wing)
Star Wars: X-Wing Second Edition – HMP Droid Gunship Expansion Pack (Card: Synced Laser Cannons) (Reissued in TIE/rb Heavy Expansion Pack)
The Mandalorian: Allies & Enemies (Picture only)
Star Wars Bust Collection 1 (Star Wars Universe: Darth Vader) (Picture only)
Star Wars Bust Collection 2 (Star Wars Universe: Stormtroopers) (Picture only)
Star Wars - The Official Magazine 101 (Database: Before the dark times…) (Picture only)
"Aftermath" Episode Guide on StarWars.com (backup link) (Picture only)
Star Wars: The Secrets of the Sith (Picture only)
A-wing Fighter in the Databank (backup link)
anti-air turbolaser tower in the Databank (backup link)
AT-TE Walker in the Databank (backup link)
Battering Ram Cannon in the Databank (backup link)
Cardo in the Databank (backup link)
Cardo's arm cannon in the Databank (backup link)
First Order AT-HH Walker in the Databank (backup link)
Knights of Ren in the Databank (backup link) (Picture only)
Malevolence in the Databank (backup link)
Pirate Speeder Tank in the Databank (backup link)
Republic Attack Gunship in the Databank (backup link)
Rumi Paramita in the Databank (backup link)
Super Battle Droid in the Databank (backup link)
Umbaran MHC in the Databank (backup link)
Wedge Antilles in the Databank (backup link)
X-wing Starfighter in the Databank (backup link)
Y-wing Starfighter in the Databank (backup link)
Notes and references
[
]