Caprioril was a planet located in the Core Worlds, near Chandrila. It was the site of the infamous Caprioril Massacre.
Galactic Republic era
Edit
Caprioril was a mostly tranquil world known for its podraces and swoop races, although podraces were officially banned in 23 BBY.[3] Caprioril was the site of an infamous assassin droid tragedy, in which a droid slaughtered 20,000 Humanoids and aliens at a swoop arena in a massive explosion, including famous racer, Ignar Ominaz. The droid's goal was the assassination of Governor Amel Bakli. Famous swoop racers on Caprioril included Serji-X Arrogantus and Hodrix.
As of 22 BBY, Caprioril was governed by Proconsul Shren Whist.[3]
New Republic era
Edit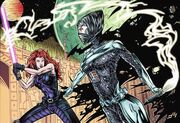 Sometime between the Battle of Endor and 9 ABY, Mara Jade briefly worked under the name Marellis as a Come-up flector for a Caprioril swoop gang.[4]
During this period, she encountered and dueled Lumiya, who was sent by Ysanne Isard on Caprioril to bring Jade back under Imperial service.[5] Caprioril was a member of the New Republic during that time.
Caprioril was named a sector capital by the New Republic.[6]
During the Emperor's reappearance in 10 ABY, the planet was besieged by the Empire.[6]
Around this time, historian Arhul Hextrophon survived an assassination attempt while visiting the planet.
Behind the scenes
Edit
The PC game Star Wars: Rebellion mistakenly names the planet "Caprionril."
Appearances
Edit
External links
Edit
Notes and references
Edit
↑ 3.0 3.1 3.2  Podracing Banned on Caprioril—HoloNet News Vol. 531 #45 (content now obsolete; backup link on Archive.org)
↑ 6.0 6.1 The Complete Star Wars Encyclopedia, Vol. I, p. 107 ("Caprioril")
Community content is available under
CC-BY-SA
unless otherwise noted.