"The Trade Federation was central to those great events—in fact, one of the final battles of the Clone Wars was fought right here on Cato Neimoidia."
―A Neimoidian
The capture of Cato Neimoidia, also known as the Battle of Cato Neimoidia, was one of the final battles of the Clone Wars and fought between the Galactic Republic and the Trade Federation. The battle was over the Federation stronghold of Cato Neimoidia. Following the Republic's victory, Jedi Master Plo Koon was conducting a patrol flight when his clone trooper pilots assassinated him as part of Supreme Chancellor Sheev Palpatine's Order 66.
The Battle
Edit
In the final hours of the Clone Wars, the Republic fought to defeat the Trade Federation stronghold of Cato Neimoidia.[8] Jedi General[10] Plo Koon lead the assault[9] with help from Clone Captain "Jag," ARC-170 starfighters[11] and the 442nd Siege Battalion.[8] Plo Koon would successfully lead the clone troopers under his command to victory.[9]
Aftermath
Edit
"Execute Order 66."
"It will be done, my Lord."
―Darth Sidious and Captain Jag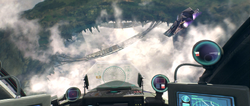 Not long after the Republic victory,[9] while flying near a bridge city[7] on a patrol flight,[3] Jedi General Plo Koon was unaware what was happening in the ARC-170 starfighter behind him,[7] which was piloted by Clone Captain "Jag."[11] The clone trooper pilot was contacted by Supreme Chancellor Palpatine, who ordered him to execute Order 66. Without hesitation, the pilot adjusted his fighter and opened fire on Koon. The Jedi Master's Delta-7 Aethersprite-class light interceptor was hit and exploded in mid-air, killing him immediately. What remained of the fighter crashed into a building on the bridge city.[7] The clone troopers of the 442nd Siege Battalion stationed on Cato Neimoidia also participated in the implementation of Order 66.[8]
Appearances
Edit
Notes and references
Edit
Community content is available under
CC-BY-SA
unless otherwise noted.