"Reminds me of Dagobah. Dunno why the Force seems to love caves so much."
―Luke Skywalker, in a cave on Serelia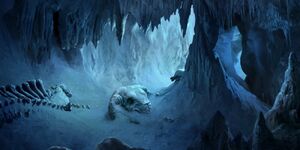 A cave,[1] also known as a grotto,[2] was a void in a section of rock or dirt. Some caves, often called caverns, were large enough for sentient life to build cities in them.[1] The surface of the planet Bilzen was covered in frozen caverns.[3]
At a test firing of the DS-1 Death Star Mobile Battle Station, Lieutenant Commander Orson Callan Krennic stated violence was part of every sentient species, noting that it was painted in caves.[4]
Community content is available under
CC-BY-SA
unless otherwise noted.