Doctor Strange in The Multiverse o Madness - The Loop
Play Sound
Star Wars Celebration Chicago is the thirteenth Celebration convention. The convention was held from April 11 through 15, 2019, at McCormick Place in Chicago, Illinois.[2] It was hosted by David W. Collins, Warwick Davis and Amy Ratcliffe.[3][4] This was the longest Star Wars Celebration to date since Celebration IV, with a five-day span.
Mural
[
]
"The original idea came from Kathy Kennedy. She asked if we could create a piece of art that would encapsulate the entire Star Wars saga, visually representing the complete stories of Star Wars through art. In thinking about how to fulfill Kathy's wish, the idea of creating a giant mural timeline was born."
―Doug Chiang, to StarWars.com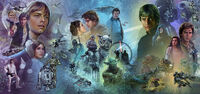 A mural depicting the Star Wars franchise as of 2019 was commissioned by Lucasfilm Ltd. President Kathleen Kennedy. Doug Chiang served as the art director for the project, while Jason Palmer was the artist. The mural debuted in Celebration Chicago, and contained depictions of the prequel trilogy, the original trilogy, the sequel trilogy, Rogue One: A Star Wars Story, Solo: A Star Wars Story, Star Wars: The Clone Wars, and Star Wars Rebels.[5] The section depicting Star Wars: Episode IX The Rise of Skywalker was covered on the first day of Celebration Chicago.[6]
Guests
[
]
Sources
[
]
Notes and references
[
]
↑ The Next Star Wars Celebration: Coming to Our Galaxy 2019 on the Celebration Chicago official website (content now obsolete; backup link)
↑ 2.0 2.1 Star Wars Celebration is Heading to Chicago and The Star Wars Show has the Details on StarWars.com (backup link)
↑ 3.0 3.1 3.2 David Collins and Amy Ratcliffe to Return as Hosts for Star Wars Celebration Chicago on StarWars.com (backup link)
↑ 5.0 5.1 Lucasfilm Readies Massive Mural for Star Wars Celebration Chicago – Exclusive on StarWars.com (backup link)
↑ Dustin: The Star Wars saga mural at Star Wars Celebration (2019-04-10). TheForce.net. Archived from the original on July 30, 2019.
↑ 7.0 7.1 Star Wars: Episode IX Panel Coming to Star Wars Celebration Chicago on StarWars.com (backup link)
↑ 8.0 8.1 8.2 Paul Bettany, Dryden Vos in Solo, and More Confirmed for Celebration Chicago on StarWars.com (backup link)
↑ 9.0 9.1 9.2 9.3 SWCC 2019: 13 Things We Learned from the Star Wars: The Rise of Skywalker Panel on StarWars.com (backup link)
↑ 10.0 10.1 10.2 10.3 10.4 10.5 10.6 10.7 10.8 10.9 The Mighty Peter Mayhew and More Guests Coming to Star Wars Celebration Chicago on StarWars.com (backup link)
↑ 11.0 11.1 Solo

'

s Erin Kellyman and Ahmed Best of the Prequel Trilogy Coming to Star Wars Celebration Chicago on StarWars.com (backup link)
↑ 13.0 13.1 13.2 13.3 13.4 13.5 13.6 Star Wars Authors to Join Fans at Celebration Chicago on StarWars.com (backup link)
↑ 15.0 15.1 15.2 15.3 15.4 15.5 15.6 15.7 Chewbacca Actor Joonas Suotamo and More to Attend Star Wars Celebration Chicago on StarWars.com (backup link)
↑ 17.0 17.1 17.2 More Star Wars Authors to Appear at Celebration Chicago on StarWars.com (backup link)
↑ 18.0 18.1 18.2 18.3 18.4 18.5 18.6 18.7 Billy Dee Williams, Alan Tudyk Announced for Celebration Chicago on StarWars.com (backup link)
↑ 20.0 20.1 20.2 20.3 Resistance

'

s Bobby Moynihan headed to Star Wars Celebration Chicago on StarWars.com (backup link)
↑ 21.0 21.1 21.2 21.3 21.4 21.5 Forest Whitaker Set for Celebration Orlando on StarWars.com (backup link)
↑ 22.0 22.1 22.2 Emperor Palpatine Actor Among Guests at Star Wars Celebration Chicago on StarWars.com (backup link)
↑ 23.0 23.1 23.2 23.3 23.4 23.5 A Galaxy of New Guests Confirmed for Star Wars Celebration Chicago on StarWars.com (backup link)
↑ 24.0 24.1 24.2 24.3 24.4 24.5 Star Wars Voice Actors Headed to Star Wars Celebration Chicago on StarWars.com (backup link)
External links
[
]