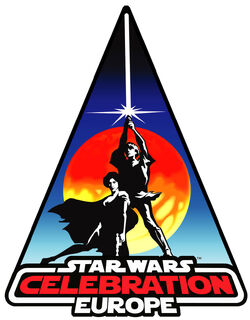 Celebration Europe is a fan convention which was held at the ExCeL Exhibition Centre in London from July 13[1] to July 15 2007. It was the first Celebration event to be held outside the United States. Its purpose was to primarily celebrate the 30th anniversary of A New Hope, the original Star Wars film which debuted on May 25, 1977.
Warwick Davis was the Celebrity Master of Ceremonies.
Celebration Europe shared many of the features of Celebration IV, which was held in Los Angeles, California earlier in the year. The convention was presented by Lucasfilm and managed by The Cards Inc. Group.
It was also notable for bringing in a replica of the Intergalactic Passports that were originally issued as backstage passes for the filming of Star Wars Episode V: The Empire Strikes Back. They included 10 collectable stamps, each acquired from specific events in the showing.
On September 25, 2006, StarWars.com posted an official announcement regarding Celebration Europe.
The above were present at the exhibition on all three days.
Celebration Europe Opening Ceremonies and A New Hope screening
[
edit
|
edit source
]
During the informal opening ceremonies, hosted by Steve Sansweet, kicked of the celebration and introduced special guests Including Mark Hamill and Ian McDiarmid, who made a rare public appearance and talked about his experience as the Emperor of the Galaxy. McDiarmid also announced Star Wars: Episode IV A New Hope.
Star Wars Collecting Panels
[
edit
|
edit source
]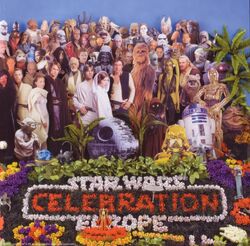 Spanish Star Wars Collectibles
Collecting 101
Mexican Star Wars Collectibles
Autograph Collecting
Women's Collecting Panel
Australian Star Wars Collectibles
Hilarious Star Wars Items
Danish Star Wars Collectibles
Swedish Star Wars Collectibles
Bootleg Star Wars Toys
Canadian Star Wars Collectibles
Dutch Star Wars Collectibles
Star Wars Food Collectibles
French Meccano to European Trilogo
Japanese Star Wars Collectibles
Props and Costumes
Star Wars Tattoos
Trading Cards
Unproduced Star Wars Toys
International Collecting Panel
Droid Displays & Demonstrations
Droid Races, Trivia Challenge, and XXtreme Droid Competition
Droid Building Panels
Celebration Europe Art Show
[
edit
|
edit source
]
At artists' Alley in the ExCeL Exhibition Centre, visitors could browse though the works of more than 20 artists. Each artist offered a limited edition print inspired by the thirtieth anniversary that was only available at Celebration Europe. They also offered a number of other prints. Each limited edition print is limited to only 250 pieces world wide. The artists included:
The One Man Star Wars Trilogy
[
edit
|
edit source
]
Fans of the Star Wars movies and fans of live theater could enjoy an exceptional treat when Charles Ross performed The One Man Star Wars Trilogy in the specially constructed 2000 seat theater in the main halls at Celebration Europe. The Canadian actor delighted audiences daily at London's ExCel Exhibition Center from Friday July 13th through Sunday, July 15th.
Lawrence Noble, the artist who sculpted the statue of Yoda on display at Lucasfilm's Letterman Digital Arts Center, created a life-size bust of Grand Moff Tarkin. He sculpted all three days of the event, but took regular breaks.[3]
Celebrity stage
| Time | Friday, July 13 | Saturday, July 14 | Sunday, July 15 |
| --- | --- | --- | --- |
| 10:30 - 11:15 | Mint Imperials: David Prowse and others. | Force of the Fetts: Jeremy Bulloch and Daniel Logan | The Two Halves of Darth Maul, with Ray Park. |
| 11:45 - 12:30 | R2 and Beyond: Droidmaster Don Bies and Kenny Baker. | Star Wars 30th Anniversary Crew Stars. | Vintage Indy, Jones Old Boys. |
| 13:00 - 14:00 | One Man Star Wars Trilogy. | One Man Star Wars Trilogy. | One Man Star Wars Trilogy. |
| 14:30 - 15:15 | Jabba, Inside the Vile Gangster: the Jabba puppeteers | Anthony Daniels | Empire Magazine Trivia Challenge. |
| 15:45 - 16:30 | One-Eyed Security with Jay Laga'aia | Rick McCallum: Producing the Prequels | Robert Watts: Producing the Original Trilogy |
| 17:00 - 18:00 | An Hour with Mark Hamill | Celebration Europe Costume Pageant | |
| 18:30 - 19:30 | | Battle of the Bands | |
Platinum Stage
Time
Friday, July 13
Saturday, July 14
Sunday, July 15
10:30 - 11:00
The Clone Wars.
The Clone Wars.
The Clone Wars.
11:30 - 12:00
The Clone Wars.
The Clone Wars.
The Clone Wars.
12:30 - 13:30
Original Trilogy costume design, and creating Darth Vader,
with John Mollo and Brian Muir.
The Force Unleashed with LucasArts.
Billy Dee Williams, exclusive interview.
14:00 - 15:30
The Star Wars Vault with Stephen J. Sansweet and Pete Vilmur.
The Modelmakers.
Star Wars Vintage Toy charity auction
to benefit Make-A-Wish.
15:30 - 17:00
The Force Unleashed with LucasArts.
Star Wars Tattoo Competition.
Working with Walking Carpets.
17:00 - 18:00
What's New at Hasbro Toys.
17:30 - 20:00
Fanboys Rough Cut Sneak Peak
↑ The Bad Batch Returns, Your Photos of The Child, and More! on the official Star Wars YouTube channel (backup link)
↑ Celebration Europe 2007 Show Guide. dl.dropboxusercontent.com. (backup link not available)
↑ Celebration Europe Show Guide
Community content is available under
CC-BY-SA
unless otherwise noted.