Celebration V, the seventh Celebration of the Star Wars saga (the fifth in the United States), was held in Orlando, Florida, United States, from August 12 to August 15, 2010.[1]
History of announcements
[
]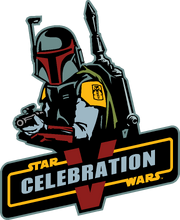 The first official mentions of the possibility of Celebration V came from Gen Con's post–Celebration IV online survey:
"We want to make future Celebrations bigger, brighter and more enjoyable."
―Gen Con Star Wars Celebration IV survey
"20) If Celebration V is held in the spring of 2009, but is not held within driving distance of your city, how likely is it that you would attend?"
―Gen Con Star Wars Celebration IV survey
Celebration V was rumored to be held in 2010, according to Steve Sansweet in an interview at DragonCon. Sansweet also had an interview with the Baltimore Business Journal in July 2008, in which he listed the possible cities to host the convention: Baltimore, Indianapolis, Chicago, Minneapolis, or Orlando.[2]
In July 2009, Hasbro announced a diorama contest in which the winner would have their work displayed at a Celebration in 2010. The Celebration was identified solely as "the 2010 Star Wars Celebration," though, not as Celebration V.[3]
At Comic-Con that same year, Steve Sansweet again mentioned Celebration V during the Star Wars Spectacular panel event. He said that it would likely be in summer 2010, possibly May 21–23.[4]
During October 2009, Spirit Halloween stores advertised a contest for Star Wars Celebration V, with a logo featuring Boba Fett. The winner of the Feel the Force contest would win an all-expenses-paid trip to Celebration V for them and three friends, as well as a free Ultimate Darth Vader costume.[5]
Official
[
]
Star Wars Celebration V was officially announced on December 3, 2009. Tickets went on sale December 10, 2009. The event was held at the Orange County Convention Center from August 12 to 15 in Orlando, Florida. Many autograph sessions were also held. Celebration V was "star studded" as all others were, with notories including George Lucas, Mark Hamill, and Carrie Fisher.
Guests
[
]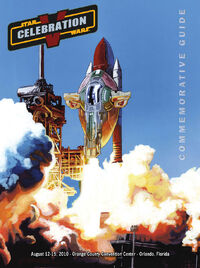 Artists
[
]
Kyle Babbitt

Spencer Brinkerhoff III

Doug Cowan

Scott Erwert

Ben Curtis Jones

Lee Kohse

Erik Maell

Tim Proctor

Brent Woodside
Collecting Panels
[
]
Animation Collecting: "The Holiday Special" to The Clone Wars
Food Collectibles
The Empire Strikes Back in Trading Cards
The End of Star Wars Collecting?
Star Wars Patches
Partners In Collecting
Humorous Star Wars Items
Star Wars Collectibles Author Panel
Star Wars Collecting Podcasts
Star Wars Store Displays
Original Movie Props and Wardrobe Collecting
Vintage Star Wars Toys
Star Wars Collectors Social Hour
Star Wars Toy Prototypes
International Collecting Panel
Almost...From A Galaxy Far, Far Away
30 Years of Empire Strikes Back Collecting
The Main Event
[
]
The Major Event of the Convention Weekend.
Hosted by Jon Stewart, former host of The Daily Show.
The Main Event was George Lucas being interviewed by Jon Stewart.
Fans were allowed to submit questions for the show.
Jon Stewart was made his own custom action figure with an extra head with a goatee.
Lucas discussed The Clone Wars, Star Wars in 3D, Star Wars Blu Ray, the new Star Wars animated show, and movie making, and officially named Obi-Wan Kenobi's planet Stewjon, after Jon Stewart.
Mark Hamill appeared to discuss his new deleted scene on the Blu-ray and to talk about The Empire Strikes Back
Carrie Fisher appeared to talk about The Empire Strikes Back
Hundreds of fans waited overnight to get into the Main Event
Schedule
[
]
Thursday 10:00 AM – 7:00 PM
Friday 10:00 AM – 7:00 PM
Saturday 10:00 AM – 7:00 PM (8:00 PM &ndash 1:00 AM: Last Tour to Endor)
Sunday 10:00 AM – 5:00 PM
Note
[
]
Several events, including movie screenings and a Star Wars Insider presentation, took place after closing.
Celebration Store and Celebration V Exclusives
[
]
Apparel
[
]
Unisex Celebration V Logo T-Shirt (available pre-convention)
Men's Boba Fett Jet Ski T-Shirt (available pre-convention)
Women's Boba Fett Jet Ski T-Shirt (available pre-convention)
Men's Tauntaun Logo polo
Hoth Brewing Company T-shirt
Darth Vader Deluxe Sith Lord T-Shirt
O-Lando T-shirt
Boba Fett Celebration Logo Zip hoodie
Endless Celebration T-shirt
Yoda Dagobah T-shirt
Adult Darth Gator T-shirt
Dark Side Lanes Bowling Shirt
Darth Vader Aloha Shirt
Women's "I love Scoundrels" T-shirt
Women's "I am not a committee" T-shirt
"I love you" "I know" T-shirt Set
Lightsaber Duel Light-Up Shirt
Darth Vader Chest Light-Up Shirt
Kids The Clone Wars Villans Shirt
Kids Deluxe Vader Sith Lord Shirt
Kid's Darth Gator Shirt
Kids The Clone Wars Heroes Shirt
Headless Han Solo T-shirt
Women's Headless Slave Leia T-shirt
Kids Rebel Pilot T-shirt
Ugnaught Baby Bodysuit and Bib
Classic Yoda Ears Retro Cap
Children's Cad Bane Cap
Boba Fett CV logo Cap
Celebration V logo Visor
Comics
[
]
Other
[
]
Wampa Rug
C-3PO Backpack Buddy
Sources
[
]
Notes and references
[
]
↑ Lucasfilm and Reed Exhibitions are Proud to Announce Star Wars Celebration V on StarWars.com (content now obsolete; backup link)
↑ C5: News And Rumors (July 9, 2008) published by TheForce.net on www.theforce.net (archived from the original on April 14, 2016)
↑ Bring Star Wars: The Clone Wars to Life! published by Hasbro on hasbro.promotions.com (archived from the original on July 26, 2009)
↑ Star Wars Spectacular published by g4tv.com on g4tv.com (content obsolete and backup link not available)
↑ Celebration V Logo Revealed…Sort Of (September 22, 2009) published by TheForce.net on www.theforce.net (archived from the original on February 15, 2016)
External links
[
]