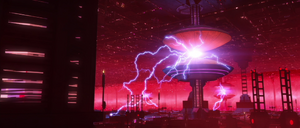 The central power distribution grid was located 5,000 levels down from the surface of Senate District on Coruscant. It provided electrical power to the city-world, going to many districts, including the Senate Building. In 21 BBY, this facility was destroyed by General Grievous' demolition droids.
Appearances
Edit
Community content is available under
CC-BY-SA
unless otherwise noted.