Jurassic World: Dominion Dominates Fandom Wikis - The Loop
Play Sound
"Some little… bat weasel? I don't know. Like an Ugnaught with a gland issue or somethin'. I thought he was a really hairy kid at first."
The Chadra-Fan was a sentient species of meter-tall, rodent-like humanoids from the Outer Rim world of Chad.[7] They had large ears, and flat noses with four nostrils.[7] The Chadra-Fans Troo-tril-tek[13] and Tiver were bounty hunters during the Republic Era[8] while Piikow[11] and another Chadra-Fan were rebels that opposed the Galactic Empire.[14] The Chadra-Fans Shortpaw[7] and Orka were junk sellers.[15] Many other sentient beings looked down on Chadra-Fans and saw them as pets or lesser beings.[10]
Biology and appearance
[
]
"I wanted adventure, but no one seems to take me seriously."
"It is probably because you are diminutive and furry, and you have a high voice. These traits combine to trick the human mind into thinking you are a child or a pet because humans are of lesser intellect."
―Kriki and Pook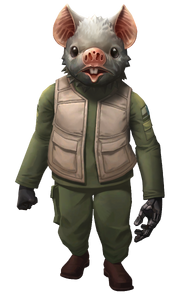 Chadra-Fans were a sentient rodent or bat-like humanoid species standing as a meter tall from the Outer Rim world of Chad. They were distinguished by their large ears, flat noses, and four nostrils.[7] Chadra-Fans could have brown,[6] gray,[7] or white colored hair[3] and had gray,[2] tan,[4] or lightly colored skin.[3] Possessing their oversized ears since childhood,[3] Chadra-Fans also had sensitive hearing.[2] Chadra-Fans had two hearts and only needed to sleep about three hours a day.[10] Chadra-Fan were capable of producing many offspring that were called fanlings.[3]
Chadra-Fans in the galaxy
[
]
"My two Chadra-Fan trackers, Hardhear and his grandson Sissian, could detect Vader at a distance."
―Wilhuff Tarkin
Prior to the Crisis on Naboo, the Chadra-Fan bounty hunter Troo-tril-tek was hired by Darth Maul to assist him in infiltrating the auction of the Jedi Padawan Eldra Kaitis.[13] Sometime before the Plot to assassinate Senator Amidala, another Chadra-Fan bounty hunter named Tiver was hired by the famed bounty hunter Jango Fett and killed shortly after in an attempt to betray him.[8]
Sometime after the occupation of Mon Cala, the Chadra-Fan trackers Hardhear and his grandson Sissian were hired, for their sensitive hearing, to assist Wilhuff Tarkin in hunting Darth Vader on Chandar's Folly.[2] The Chadra-Fan Kabe was a patron of Chalmun's Spaceport Cantina on Tatooine[4] and was present when Luke Skywalker and Obi-Wan Kenobi went there looking for transport to Alderaan.[6] Piikow was a Chadra-Fan member of the Dreamers rebel cell in 0 ABY.[11] Another Chadra-Fan rebel was a part of the Sullustan resistance.[14] Chadra-Fans including Meymik, Shortpaw, Tel'kap, Tiquip,[7] and Fbinti Fith[16] were in the Anoat sector during the Iron Blockade.[7] The Chadra-Fan Orka was the co-owner of the Office of Acquisitions on the refueling station Colossus.[15] The Chadra-Fan Kriki lived at Black Spire Outpost on Batuu and was recruited into the Resistance by Vi Moradi.[10]
Appearances
[
]
Sources
[
]
Notes and references
[
]
↑ 1.0 1.1 1.2 1.3 Chadra-Fan in the Databank (backup link)
↑ Star Wars: Uprising—Crew Member: "Fbinti Fith"