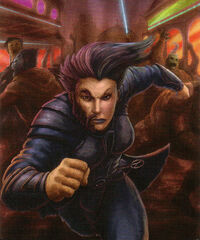 "You know, a gentleman would turn his back while a lady changes."
"That's not the sort of changing most people have in mind. And you're no lady."
"Sometimes I am."
―Zam Wesell and Jango Fett
Changeling or Shapeshifter was a term used for those species, such as the Shi'ido or the Clawdites, with the ability to change their appearance or shape.[1]
Because of the mistrust some beings had of shapeshifters, they would often try to hide their species of origin.[2] Others were valued as assassins, spies, and observers.[1]
Some beings were also able to transform through the Force by using the reflections of the life forces around them. Those species included the Force wielders.[3]
↑  Noviee Exposed as a Changeling—HoloNet News Vol. 531 #56 (content now obsolete; backup link on Archive.org)
Community content is available under
CC-BY-SA
unless otherwise noted.