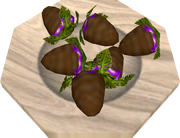 Chocolate or chokolate was a sweet food. It could be eaten on its own, or used as an ingredient in beverages such as hot chocolate, or in desserts such as cake, ladybabies and white-chocolate bread pudding.
Sometimes, the word "chocolate" used alone actually referred to the spice drink hot chocolate.
Variations included Trammistan chocolate.
During the Ewok Festival of Love, the Ewoks used chocolate to coat Camby berries to create Chocolate Covered Camby Berries.
Emperor Palpatine was known to like chocolate, with the Gracious Government Mix being deemed his favorites.
After the Yuuzhan Vong War, chocolate became a rarity, because the Yuuzhan Vong had re-shaped seven of the eight planets that were home to the plant that produced the pods that were used to make it.
Community content is available under
CC-BY-SA
unless otherwise noted.