Sir Christopher Frank Carandini Lee, CBE, CStJ (May 27, 1922 – June 7, 2015) was the actor who played Count Dooku/Darth Tyranus in Star Wars: Episode II Attack of the Clones and Star Wars: Episode III Revenge of the Sith, and performed the same character's voice in the Star Wars: The Clone Wars film.
Lee was best known for his work in horror films produced by Hammer Studios. These films often had him collaborating with his good friend Peter Cushing, who played Grand Moff Tarkin in Star Wars: Episode IV A New Hope. He has also appeared as Francisco Scaramanga, the primary villain in the Roger Moore James Bond film The Man With the Golden Gun. He also played the wizard Saruman in The Lord of the Rings trilogy. Despite a critically acclaimed career that spanned 70 years, he was never nominated for an Academy Award.
On June 13, 2009, Lee was knighted in the Queen's Birthday Honours List.[3]
In Episode II Attack of the Clones and Episode III Revenge of the Sith he portrayed Count Dooku. While Lee, an accomplished swordfighter himself, did much of the sword fights in the films, stunt actor Kyle Rowling was hired to perform the intensive footwork of Christopher Lee's character. Rowling's face was later replaced with Lee's during post-production.
Lee reprised his role as Count Dooku in the film Star Wars: The Clone Wars but did not return for the TV series.
Christopher Lee died on June 7, 2015,[2] after suffering a heart failure.
His niece, Dame Harriet Walter, appeared in Star Wars: Episode VII The Force Awakens.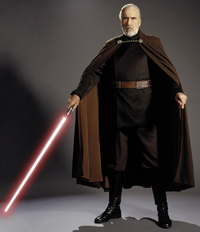 Year
Title
Role
Notes
1948
Corridor of Mirrors
Charles
1948
One Night with You
Pirelli's Assistant
1948
Hamlet
Spear Carrier
Uncredited
1948 Best Picture
1948
Penny and the Pownall Case
Jonathan Blair
1948
A Song of Tomorrow
Auguste
1948
My Brother's Keeper
Second Constable
Scenes Deleted
1948
Saraband for Dead Lovers
Bit Part
Uncredited
1948
Scott of the Antarctic
Bernard Day
1949
Trottie True
Bongo
1950
They Were Not Divided
Chris Lewis
1950
Prelude to Fame
Newsman
1951
Valley of Eagles
Det. Holt
1951
Captain Horatio Hornblower R.N.
Spanish Captain
1952
The Crimson Pirate
Joseph (attache)
1952
Top Secret
Uncredited
1952
Paul Temple Returns
Sir Felix Raybourne
1952
Babes in Bagdad
Slave Dealer
1952
Moulin Rouge
Georges Seurat
Nominated for 1952 Best Picture
1953
Les vacances de Monsieur Hulot
Uncredited
1953
Innocents in Paris
Lieutenant Whitlock
Uncredited
1954
Destination Milan
Svenson
1955
Man in Demand
1955
Crossroads
The Ghost
1955
Moby Dick Rehearsed
A Stage Manager/Flask
TV movie
1955
Final Column
1955
That Lady
Captain
1955
Police Dog
Johnny, a constable
1955
The Vise
Different Roles
Episodes
"Stronghold"
"Price of Vanity"
"The Final Column"
1955
The Dark Avenger
French Patrol Captain at Tavern
Uncredited
1955
Tales of Hans Anderson
Different Roles
Episodes
"Wee Willie Winkie"
"The Cripple Boy"
1955
The Cockleshell Heroes
Submarine Commander
1955
Storm Over the Nile
Karaga Pasha
1956
The Adventures of Aggie
Inspector Hollis
Episode
"Cut Glass"
1956
Alias John Preston
John Preston
1956
Private's Progress
Gen. von Linbeck's aide
1956
The Scarlet Pimpernel
Louis (Uncredited)
Episode
"The Elusive Chauvelin"
1956
Colonel March of Scotland Yard
Jean-Pierre
Episode
"At Night All Cats Are Grey"
1956
Port Afrique
Franz Vermes
1956
Beyond Mombasa
Gil Rossi
1953 - 1956
Douglas Fairbanks, Jr., Presents
Different Roles
13 Episodes
1956
Sailor of Fortune
Different Roles
Episodes
"The Desert Hostages"
"Stranger in Danger"
1956
The Battle of the River Plate
Manolo
1957
Errol Flynn Theater
Different Roles
4 Episodes
1957
I'll Met by Moonlight
German Officer at Dentists
1957
Fortune Is a Woman
Charles Highbury
1957
The Traitor
Dr. Neumann
1957
The Curse of Frankenstein
The Creature
1957
Manuela
Voice
Uncredited
1957
The Gay Cavalier
Colonel Jeffries
Episode
"The Lady's Dilemma"
1957
Bitter Victory
Sgt. Barney
1957
The Truth About Women
François
1956 - 1957
Assignment Foreign Legion
Different Roles
Episodes
"As We Forgive"
"The Anaya"
1958
O.S.S.
Dessinger
Episode
"Operation Firefly"
1958
Ivanhoe
Sir Otto
Episode
"The German Knight"
1958
A Tale of Two Cities
Marquis St. Evremonde
1958
White Hunter
Mark Caldwell
Episode
"This Hungry Hell"
1958
Dracula
Count Dracula
1958
The Battle of the V.1
Labor Camp Captain, Men's Section
1958
Corridors of Blood
Resurrection Joe
1959
William Tell
Prince Erik
Episode
"Manhunt"
1959
The Hound of the Baskervilles
Sir Henry
1959
The Man Who Could Cheat Death
Dr. Pierre Gerard
1959
The Treasure of San Teresa
Jaeger
1959
The Mummy
Kharis, the Mummy
1959
Tempi duri per i vampiri
Baron Roderico da Frankurten
1960
Tales of the Vikings
Norman Knight
1960
Too Hot to Handle
Novak
1960
Beat Girl
Kenny
1960
The City of the Dead
Prof. Alan Driscoll
1960
The Two Faces of Dr. Jekyll
Paul Allen
1960
The Hands of Orlac
Nero the magician
1961
The Terror of the Tongs
Chung King
1961
Taste of Fear
Doctor Pierre Gerrard
1961
Alcoa Presents: One Step Beyond
Wilhelm Reitlinger
Episode
"The Sorcerer"
1961
Das geheimnis der gelben Narzissen
Ling Chu
1961
Ercole al centro della terra
King Lico (Licos)
1962
Stranglehold
1962
Das rätsel der roten Orchidee
Captain Allerman
1962
The Pirates of Blood River
Captain LaRoche
1962
The Devil's Agent
Baron von Staub
1962
Sherlock Holmes und das Halsband des Todes
Sherlock Holmes
1963
Katarsis
Mephistoles
1963
La vergine di Norimberga
Erich
1963
La frusta e il corpo
Kurt Menliff
1964
Il castello dei morti vivi
Count Drago
1964
The Alfred Hitchcock Hour
Karl Jorla
Episode
"The Sign of Satan" (1964)
1964
La cripta e l'incubo
Count Ludwig Karnstein
1964
The Devil-Ship Pirates
Captain Robeles
1964
The Gorgon
Prof. Karl Meister
1965
Dr. Terror's House of Horrors
Franklyn Marsh
1965
She
Billali
1965
The Skull
Sir Matthew Phillips
1965
Ten Little Indians
Voice of "Mr. Owen"
Uncredited
1965
The Face of Fu Manchu
Dr. Fu Manchu / Lee Tao
1966
Theatre of Death
Philippe Darvas
1966
Dracula: Prince of Darkness
Count Dracula
1966
Rasputin: The Mad Monk
Grigori Rasputin
1966
Circus of Fear
Gregor
1966
The Brides of Fu Manchu
Fu Manchu
1967
The Vengeance of Fu Manchu
Dr. Fu Manchu
1967
Night of the Big Heat
Godfrey Hanson
1967
Five Golden Dragons
Dragon #4
1967
Die schlangengrube und das Pendel
Count Frederic Regula, Graf von Andomai
1968
Curse of the Crimson Altar
Morley
1968
The Devil Rides Out
Duc de Richleau
1968
The Face of Eve
Colonel Stuart
1968
The Blood of Fu Manchu
Fu Manchu
1968
Dracula Has Risen from the Grave
Dracula
1967, 1969
The Avengers
Professor Stone (1967)
Colonel Mannering (1969)
Episodes
"Never, Never Say Die" (1967)
"The Interrogators" (1969)
1969
Light Entertainment Killers
TV movie
1969
The Castle of Fu Manchu
Fu Manchu
1969
The Oblong Box
Dr. J. Neuhart
1969
The Magic Christian
Ship's vampire
1969
Frankenstein Must Be Destroyed
Count Dracula
1970
Scream and Scream Again
Fremont
1970
Umbracle
The Man
1970
The Bloody Judge
Lord George Jeffreys
1970
Count Dracula
Count Dracula
1970
Taste the Blood of Dracula
Dracula
1970
One More Time
Dracula
1970
Julius Caesar
Artemidorus
1970
Eugenie
Dolmance
1970
The Private Life of Sherlock Holmes
Mycroft Holmes
1970
Scars of Dracula
Dracula
1971
The House That Dripped Blood
John Reid
Segment
"Sweets to the Sweet"
1971
I, Monster
Dr. Charles Marlowe/Edward Blake
1971
Hannie Caulder
Bailey
1972
Death Line
Stratton-Villiers, MI5
1972
Nothing But the Night
Col. Charles Bingham
1972
Dracula AD 1972
Count Dracula
1973
Dark Places
Dr. Mandeville
1973
The Creeping Flesh
James Hildern
1973
Poor Devil
Lucifer
TV movie
1973
Great Mysteries
Arnaud
Episode
"The Leather Funnel" (1973)
1973
The Satanic Rites of Dracula
Count Dracula
1973
Horror Express
Sir Alexander Saxton
1973
The Three Musketeers
Rochefort
1973
The Wicker Man
Lord Summerisle
1974
The Four Musketeers
Rochefort
1974
The Man with the Golden Gun
Francisco Scaramanga
1975
Diagnosis: Murder
Dr. Stephen Hayward
1975
Le boucher, la star et l'orpheline
Van Krig/Himself
1976
The Keeper
The Keeper
1976
Killer Force
Major Chilton
1976
Space: 1999
Captain Zandor
Episode
"Earthbound" (1976)
1976
To the Devil, A Daughter
Father Michael Rayner
1976
Dracula père et fils
Le prince des Ténèbres / Prince of Darkness
1976
Albino
Bill
1977
Airport '77
Martin Wallace
1977
Meatcleaver Massacre
On-screen narrator
1977
End of the World
Father Pergado/Zindar
1977
Starship Invasions
Captain Rameses
1978
How the West Was Won
The Grand Duke
TV miniseries
1978
Return from Witch Mountain
Victor
1978
Caravans
Sardar Khan
1978
The Pirate
Samir Al Fay
TV movie
1978
Circle of Iron
Zetan
1979
The Passage
Gypsy
1979
Arabian Adventure
Alquazar
1979
Nutcracker Fantasy
Uncle Drosselmeyer / Street Singer / Watchmaker
Voice
1979
Jaguar Lives!
Adam Caine
1979
Captain America II: Death Too Soon
Miguel
TV movie
1979
Bear Island
Lechinski
1979
1941
Capt. Wolfgang von Kleinschmidt
1980
Serial
Luckman Skull
1980
Once Upon a Spy
Marcus Valorium
TV movie
1980
Charlie's Angels
Dale Woodman
Episode
"Angel in Hiding" (1980)
1981
The Salamander
Prince Baldasar, the Director of Counterintelligence
1981
Evil Stalks This House
Host
TV movie
1981
Desperate Moves
Dr. Carl Boxer
1981
An Eye for an Eye
Morgan Canfield
1981
Time Bandits
Oswald
1981
Goliath Awaits
John McKenzie
TV movie
1982
Safari 3000
Count Borgia
1982
Massarati and the Brain
Victor Leopold
TV movie
1982
Charles & Diana: A Royal Love Story
Prince Philip
TV movie
1982
The Last Unicorn
King Haggard
Voice; also in german language version
1983
New Magic
Mr. Kellar
1983
The Return of Captain Invincible
Mr. Midnight
1983
House of the Long Shadows
Corrigan
1984
The Far Pavilions
Kaka-ji Rao
TV miniseries
1984
Faerie Tale Theatre
King Vladimir V
Episode
"The Boy Who Left Home to Find Out About the Shivers" (1984)
1984
The Rosebud Beach Hotel
Mr. Clifford King
1985
Mask of Murder
Chief Supt. Jonathan Rich
1985
Howling II: Stirba - Werewolf Bitch
Stefan Crosscoe
1986
Un métier du seigneur
Fog
TV movie
1986
The Girl
Peter Storm
1986
The Disputation
King James of Aragon
TV movie
1986
The Mind of David Berglas
Episode
"Episode #1.1" (1986)
1986
Shaka Zulu
Lord Bathurst
TV miniseries
1987
Shaka Zulu
Lord Bathurst
1987
Jocks
President White
1987
Spaceballs
Captain Layton
1987
Mio min Mio
Kato
1988
Dark Mission (Operación cocaína)
Luis Morel
1989
Murder Story
Willard Hope
1989
La chute des aigles
Walter Strauss
1989
Around the World in 80 Days
Stuart
TV miniseries
1989
The Return of the Musketeers
Rochefort
1989
La révolution française
Sanson
Segment
"Les Années Terribles"
1990
The Rainbow Thief
Uncle Rudolf
1990
The Care of Time
Karlis Zander
1990
Treasure Island
Blind Pew
1990
L'Avaro
Cardinale Spinosi
1990
Honeymoon Academy
Lazos
1990
Gremlins 2: The New Batch
Doctor Catheter
1991
Incident at Victoria Falls
Sherlock Holmes
1991
Curse III: Blood Sacrifice
Doctor Pearson
1992
Jackpot
Cedric
1992
Double Vision
Mr. Bernard
TV movie
1992
Kabuto
King Philip
1992
Sherlock Holmes and the Leading Lady
Sherlock Holmes
1992
The Young Indiana Jones Chronicles
Count Ottokar Graf Czerin
Episode "Austria, March 1917"
1993
Death Train
General Konstantin Benin
1994
Police Academy: Mission to Moscow
Cmndt. Alexandrei Nikolaivich Rakov
1994
Funny Man
Callum Chance
1995
The Tomorrow People
Rameses
1995
A Feast at Midnight
V. E. Longfellow, aka Raptor
1995
Moses
Ramses
1996
Welcome to the Discworld
Death
1996
Sorellina e il principe del sogno
Azaret
1996
The Stupids
Evil Sender
1997
Ivanhoe
Lucas de Beaumanoir
TV mini-series
1997
Soul Music
Death
1997
Wyrd Sisters
Death
1997
The Odyssey
Tiresias
1998
Tale of the Mummy
Sir Richard Turkel
1998
Jinnah
Mohammed Ali Jinnah
1997 - 1998
The New Adventures of Robin Hood
Olwyn
6 episodes
1996 - 1999
Blue Heelers
Richard
4 episodes
1999
Sleepy Hollow
Burgomaster
2000
Gormenghast
Flay
2000
In the Beginning
Rameses I
TV movie
2000
Ghost Stories for Christmas
M. R. James
TV mini-series
2001
Les Redoutables
Death
Segment
"Confession" (unknown episodes)
2001
The Lord of the Rings: The Fellowship of the Ring
Saruman
Nominated for Academy Award for Best Picture;
and MTV Movie Award for "Best Fight" (with Ian McKellen)
2002
Star Wars: Episode II Attack of the Clones
Count Dooku / Darth Tyranus
2002
The Lord of the Rings: The Two Towers
Saruman
Nominated for 2002 Best Picture
2003
The Lord of the Rings: The Return of the King
Saruman
2003 Best Picture
2004
Crimson Rivers II: Angels of the Apocalypse
Heinrich von Garten
2005
The Adventures of Greyfriars Bobby
The Lord Provost
2005
Star Wars: Episode III Revenge of the Sith
Count Dooku / Darth Tyranus
2005
Charlie and the Chocolate Factory
Dr. Wonka
2005
Corpse Bride
Pastor Galswells
(voice)
2005
Pope John Paul II
Cardinal Stefan Wyszynski
2007
The Golden Compass
First High Councilor
2008
The Colour of Magic
Death
TV
2008
Star Wars: The Clone Wars
Count Dooku / Darth Tyranus
(voice)
2008
The Heavy
Mr. Mason
2008
Boogie Woogie
Alfred Rhinegold
2008
Monstermania!
Mr. Price
(voice)
post-production
2009
Triage
Joaquín Morales
2009
Professor Layton and the Eternal Diva
Pip
(voice)
2010
Alice in Wonderland
The Jabberwocky
(voice)
2012
The Hobbit: An Unexpected Journey
Saruman
2014
The Hobbit: The Battle of the Five Armies
Saruman
| | | |
| --- | --- | --- |
| Year | Title | Other notes |
| 2003 | Lord of Misrule: The Autobiography of Christopher Lee | Includes some information about Lee's work on Attack of the Clones |
↑ A Look At Jedi Temple Challenge, Anniversary Celebrations, and More! on the official Star Wars YouTube channel (backup link)
↑ 2.0 2.1 Singh, Anita (2015-06-11). Sir Christopher Lee dies at 93 - latest reaction and tributes. Telegraph. Archived from the original on March 16, 2020.
↑ Veteran horror actor Lee knighted. BBC News (2009-06-12). Archived from the original on April 6, 2019.
Community content is available under
CC-BY-SA
unless otherwise noted.