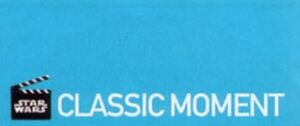 Classic Moment is a regular feature of Star Wars Insider magazine that selects one scene in Star Wars continuity, reviews what happened through a script excerpt or brief overview, provides quotes from individuals involved in the production process and explains why the scene is considered to be notable. "Classic Moment" debuted in Star Wars Insider 101.
According to the "Next Time" teaser for this department in Star Wars Insider 105, this iteration of "Classic Moment" originally was going to be "Dooku Taunts Obi-Wan Kenobi."
Community content is available under
CC-BY-SA
unless otherwise noted.