"[It's] a good idea to know how to mix up a delicious drink to make guests feel welcome. The Cliff Dweller does just that, incorporatin' simple ingredients that can easily be found on Ahch-To's archipelagos. Its surprisingly tropical flair manages to make Ahch-To's rocky shores seem like paradise."
―Strono Tuggs, The Official Black Spire Outpost Cookbook
Cliff Dweller was a frothy, fruity non-alcoholic beverage[2] that was full of flavor.[3] It was a regional favorite,[3] and was suitable for human consumption.[2]
After the Battle of Takodana[1] in 34 ABY,[4] Artiodac chef Strono Tuggs published his cookbook, The Official Black Spire Outpost Cookbook. It included a recipe from Ahch-To,[1] a watery planet in the Unknown Regions covered with oceans and rocky islands,[5] for a pink-hued beverage made with simple ingredients that were readily available on Ahch-To. According to Tuggs, even beings dwelling in the cliffs of the remote planet needed to know a drink recipe in case they ever had unexpected company, and the Cliff Dweller had a "surprisingly tropical flair."[1]
Cliff Dwellers were served at Oga's Cantina in Black Spire Outpost on the planet Batuu[2] in 34 ABY.[6] Their version was deep orange and was served in mugs carved to look like porgs,[2] a species of birds native to Ahch-To.[5]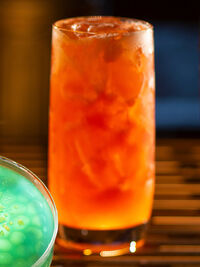 Cliff Dweller is one of the non-alcoholic beverages that was first revealed through a promotional post on StarWars.com on February 27, 2019,[7] and is available for purchase by guests in the bar Oga's Cantina at Star Wars: Galaxy's Edge, a themed attraction that opened at Disneyland Park on May 31, 2019.[8] The menu's description of the beverage reads, "Citrus Juices, Coconut, Hibiscus-Grenadine, and Seagram's® Ginger Ale served in a souvenir porg mug."[9]
An out-of-universe recipe for the cocktail is included in the 2019 recipe book Star Wars: Galaxy's Edge: The Official Black Spire Outpost Cookbook, written by Marc Sumerak and Chelsea Monroe-Cassel. The ingredients orange juice, pineapple juice, lime juice, grenadine, and coconut cream are shaken in a cocktail shaker, then poured over chipped ice and topped with ginger ale.[1]
The official Disney Parks Blog posted a similar recipe that uses the same ingredients, but it specifies hibiscus grenadine and uses different ratios than the cookbook version. According to the post, the measurements were converted from the restaurant's large batch recipe.[10]
↑ 1.0 1.1 1.2 1.3 1.4 1.5 1.6 1.7 Star Wars: Galaxy's Edge: The Official Black Spire Outpost Cookbook
↑ The events within Star Wars: Galaxy's Edge take place in 34 ABY, per the reasoning here.
↑  From Blue Milk to Ronto Wraps: The Food and Beverages of Star Wars: Galaxy's Edge on StarWars.com (backup link)
Community content is available under
CC-BY-SA
unless otherwise noted.