Operation: Cinder Satellites: Star Wars Canon vs Legends
Play Sound
from Star Wars Explained
A climate disruption array was a technological device that could be deployed in the orbit of a planet to provoke storms and hurricanes on its surface from space. Imperial-class Star Destroyers could deploy these arrays.[1]
These arrays were satellites modified to provoke storms once the beam reached through the planet. Once it hit the surface, powerful storms were created and caused vast devastation.
"Operation: Cinder is to begin at once. Resistance. Rebellion. Defiance. These are concepts that cannot be allowed to persist. You are but one of many tools by which these ideas shall be burned away."
―A posthumous message from Emperor Palpatine
The earliest known development for the disruption arrays could be traced back to Fondor, a critical naval complex for the Galactic Empire.[4]
Following the Battle of Endor, which saw the death of Emperor Palpatine,[5] Operation: Cinder was activated. Palpatine's Sentinel droids were sent to "selected" Imperial officers including Admiral Garrick Versio[1] and Captain Lerr Duvat.[3] In the aftermath of the Battle of Endor, Research Station 9, a Tarkin Initiative facility on Endor, contained a hologram of the disruption array.[1]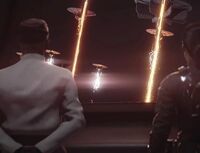 Versio deployed the arrays above his home planet, Vardos. This saw the defection of two Inferno Squad members; Iden Versio and Del Meeko. Following the skirmish on the planet, the satellites wrecked the planet.[1]
Duvat was sent to Naboo, were he was to scour the planet with the deployed disruption arrays[3] but was stopped by the Rebel Alliance.[6]
Abednedo was also targeted by climate disruption arrays.[2] This led the Abednedo people to support the New Republic and the Resistance.[7]
While other numerous other planets were targeted by Operation: Cinder, ones with unique ecologies were subjected to different climate control weapons; Nacronis, for example, was hit with atmospheric vortex detonators that amplified its natural siltstorms to apocalyptic levels.[8]
In 34 ABY, Iden returned to Vardos with Shriv Suurgav and her daughter, Zay. Suurgav noticed what he thought was snow, but Iden revealed it was actually atmospheric ash, leftover from the storms and fires caused by the climate disruption arrays 30 years prior.[1]
↑  Fondor in the Databank (backup link)
↑  Abednedo in the Databank (backup link)
Community content is available under
CC-BY-SA
unless otherwise noted.