House of the Dragon Trailer - The Loop
Play Sound
The Cobalt Hammer was an MG-100 StarFortress SF-17 in the Resistance's Cobalt Squadron.
History
[
]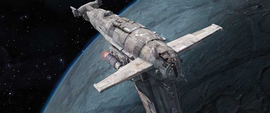 The Cobalt Hammer took part in the evacuation of D'Qar[2] participated in the bombing run on a Mandator IV-class Siege Dreadnought. Several bombers were destroyed by TIE fighters and debris, leaving only the Cobalt Hammer to drop bombs in the last hope to destroy the Dreadnaught, the Fulminatrix. However, Nix Jerd, the bombardier, was knocked unconscious. This meant Paige Tico, a gunner, had to activate the bombs. She climbed up the ladder and was preparing to activate them when a TIE fighter blew up the cockpit, killing the pilot, Finch Dallow, and the flight engineer. The resulting explosion threw Tico off the ladder and down to a catwalk. After kicking the access ladder several times the detonator fell down. She caught it and dropped the bombs on the Dreadnaught. The resulting explosion destroyed both the Dreadnaught and the Cobalt Hammer, killing all aboard the two doomed ships.[3]
Appearances
[
]
Sources
[
]
Notes and references
[
]
↑ 2.00 2.01 2.02 2.03 2.04 2.05 2.06 2.07 2.08 2.09 2.10 2.11 2.12 2.13 Star Wars: The Last Jedi: Incredible Cross-Sections
↑  Resistance bomber in the Databank (backup link)
↑ Star Wars: Galactic Atlas places the events of the film Star Wars: Episode VII The Force Awakens in 34 ABY. As Star Wars: Episode VIII The Last Jedi carries on immediately from the events of The Force Awakens, it can be assumed to take place in the same year.