Coca-Cola was a carbonated, caffeinated soda served in plastic orb bottles and paper cups at various locations throughout Black Spire Outpost on the planet Batuu. The beverage was imported by Jat Kaa, a Lurmen male from the planet Mygeeto, who sold it to travelers and locals via his company Jat Kaa's Coolers at pop-up locations around the outpost and in the nearby ancient ruins.
Description
Edit
Coca-Cola was a brown carbonated soda with caffeine. It was packaged in red, spherical plastic bottles with white Aurebesh writing that read "Coca-Cola" and "original taste" surrounded by a black, angular border. The beverage was sealed using a metallic, screw-on cap with several rectangular protrusions. It was also served from dispensers with ice in large- and regular-sized paper cups. The drink was safe for humans to consume, and an altered version of the beverage called Diet Coke was available.[1]
During the war between the First Order and Resistance, the Lurmen male Jat Kaa, hailing from the planet Mygeeto, had Coca-Cola bottles imported to Black Spire Outpost on the Outer Rim world of Batuu. Workers for his company, Jat Kaa's Coolers, sold them at various pop-up locations throughout the outpost and the nearby ancient ruins.[3]
Kaa also purchased several R-series droids from Mubo,[3] the owner of the Droid Depot,[5] and reprogrammed them to drive purpose-built vehicles around the outpost selling bottles of the beverage.[3] Around the same time, the bottled beverage was served in Black Spire's market at Kat Saka's Kettle,[1] while cups filled with the soda were available at Docking Bay 7 Food and Cargo[2] and Ronto Roasters.[4]
Behind the scenes
Edit
"When we first approached Coca-Cola and shared the idea of bringing their products into the Star Wars galaxy in a new and unique way, they immediately saw the opportunity to give our guests the refreshing drinks they love in a way that maintained the authenticity of the story – which is very important to us – and that was, frankly, just plain cool."
―Scott Trowbridge, portfolio creative executive and studio leader, Walt Disney Imagineering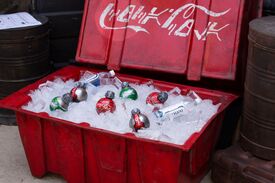 The soft drink Coca-Cola is one of the beverage items available in the theme park land Star Wars: Galaxy's Edge, which opened to guests at Disneyland Park on May 31, 2019. The beverage's Star Wars–themed packaging was developed exclusively for the park as part of a collaboration between Walt Disney Imagineering, Lucasfilm Ltd., and The Coca-Cola Company,[6] which has had a partnership with Disneyland since 1955.[7] The specially-packaged drink was revealed at Star Wars Celebration Chicago in April 2019, during the "Bringing Star Wars to Life at Disney Parks" panel,[6] which showcased an ad featuring a crate full of Coca-Cola, Diet Coke, Sprite, and Dasani beverages being stolen from two distracted First Order stormtroopers.[8]
The creative process behind the bottles took over three years, with Coca-Cola Design presenting designs in various shapes and sizes before settling on the rustic orb bottles present in Star Wars: Galaxy's Edge. Matt Cooper, an associate industrial designer at Coca-Cola, stated that the goal of the final design was to evoke a sense that the bottles had just been pulled off a ship or left behind and repurposed into beverage containers. The idea to use Aurebesh for the logo originated when a group of Imagineers toured the Coke Archives in Atlanta, Georgia and saw the brand's iconic Spencerian script logo in various languages.[9]
Appearances
Edit
Notes and references
Edit
↑ 3.0 3.1 3.2 3.3 Jat Kaa's Coolers has backstory elements that, though not directly published for the public, are officially canon details that can be obtained verbally from Star Wars: Galaxy's Edge cast members working the pop-up locations.
↑ 6.0 6.1  SWCC 2019: 6 Things We Learned from the Star Wars: Galaxy's Edge Panel on StarWars.com (backup link)
↑ Specially Designed Coca-Cola Products Coming Exclusively to Star Wars: Galaxy's Edge on the Disney Parks Blog (backup link)
↑ Specially Designed Coca-Cola Products Coming Exclusively to Star Wars: Galaxy's Edge on the Disney Parks YouTube channel
↑ Moye, Jay (2019-04-13). Coca-Cola and Disney Designed These Galactic Bottles for Star Wars: Galaxy's Edge. Coca-Cola Journey. The Coca-Cola Company. Archived from the original on June 20, 2019. Retrieved on July 1, 2019.
Community content is available under
CC-BY-SA
unless otherwise noted.