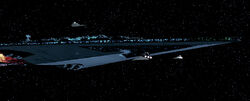 "Your work here is finished, my friend. Go out to the command ship and await my orders."
―Emperor Sheev Palpatine, to Darth Vader
A command ship was a vessel which served as the flagship of a fleet. Command ships were typically larger and better armed than other warships. The Invisible Hand served as the command ship of General Grievous during the Battle of Coruscant.[1] The Executor-class Star Dreadnought Executor was the command ship of Darth Vader during the Galactic Civil War, and was used in multiple battles including the assault on the Mako-Ta Space Docks,[2] the Battle of Hoth,[3] and the Battle of Endor.[4]
Community content is available under
CC-BY-SA
unless otherwise noted.