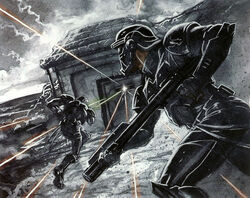 A commando (plural commandos or commandoes) was generally a soldier that was suited to environments and situations that most other units would not be able to handle, either due to training or equipment.
Behind the scenes
[
]
In the MMORPG Star Wars Galaxies, the commando was one of the professions to survive the so-called "New Game Enhancements" of 2005 and be included as one of the nine iconic starter professions. In the game, they specialize in the use of heavy weaponry and other explosives.
The commando is an advanced class for the trooper class in the Star Wars: The Old Republic MMO video game.[2] This advanced class specializes in heavy blaster cannons and grenades. The Imperial counterpart for this archetype is the mercenary.[3]
Appearances
[
]
Sources
[
]
"Recon & Report: The Journey to Coruscant" – The Best of the Star Wars Adventure Journal, Issues 1-4
"Soldiers of Fortune" (original article link) on Wizards.com (content now obsolete; backup link)
"Thyferra: Bacta Basics" (original article link) on Wizards.com (content now obsolete; backup link)
"

Imperial Entanglements Preview 10

" (original article link) on Wizards.com (content now obsolete; backup link)
"New Republic Stat Pack" (original article link) on Wizards.com (content obsolete and backup link not available)
 Star Wars: The Card Game – Lure of the Dark Side (Card: Commando Operations)
Captain Argyus in the Encyclopedia (content now obsolete; backup link)
Commando droid in the Encyclopedia (content now obsolete; backup link)
Senate Guard in the Encyclopedia (content now obsolete; backup link)
Notes and references
[
]
External links
[
]