"If you're done hiding down there, I suggest you launch a counterattack. Another droid battalion's approaching."
―Clone Sergeant "Hunter," to Jedi General Depa Billaba
The Conquest of Kaller took place in the last days of the Clone Wars in the Clone Wars on the planet of Kaller between the Grand Army of the Galactic Republic and the Droid Army of the Confederacy of Independent Systems.
During the Clone Wars,[8] the poor insulated world of Kaller[9] became a target for the Confederacy of Independent Systems. While, prior to the Third Battle of Mygeeto, Count Dooku ordered General Kleeve to oversee their takeover of Kaller,[8] and Jedi General Depa Billaba's battalion was dispatched in response after the fighting at Mygeeto,[10] the conquest[8] would not be launched until the aftermath of the Battle of Coruscant. In response to major Separatist losses, General Grievous launched a counterstrategy that involved attacking multiple star systems with what remained of the Separatist Droid Army, leading to the besiegement of the Kaller system.[6]
"Captain Styles, have your men take the left flank."
"Yes, General!"
"Commander Grey, the right."
"Roger that."
"Time to end this. All forces attack!"
―Jedi Master Depa Billaba leads her troops in Kanan 1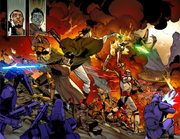 The Conquest of Kaller first appeared in the 2015 comic Kanan 1[11] and was first identified in Kanan 9.[8] The battle also later appeared in Star Wars: The Bad Batch premiere episode "Aftermath," but its depiction of events[6] heavily contradict the depiction of the conquest in the Kanan comic series.[11] The animated version of events had first appeared in the opening newsreel of the The Clone Wars: Season Seven episode "Old Friends Not Forgotten," although the planet was not identified and the footage was mirrored.[7]
While the comic depicts the Republic liberating the planet of Kaller, fighting up to the walls of the capital until General Kleeve retreats, and Order 66 occurring during the following night,[11] Aftermath depicts a skirmish involving Clone Force 99 that took place some distance from the capital. Additionally, Order 66 occurs directly after the skirmish against the battle droids, with Caleb Dume running from the Bad Batch[6] instead of his own unit of clones.[11] Dume also loses his cloak in Aftermath,[6] which he used in subsequent issues of Kanan to hide from the Galactic Empire.[12][13] This article assumes Dume somehow regained his cloak.
↑ 6.00 6.01 6.02 6.03 6.04 6.05 6.06 6.07 6.08 6.09 6.10 6.11 6.12 6.13 6.14 6.15 6.16 6.17 6.18 6.19 6.20 6.21 6.22 6.23 6.24 6.25 6.26 Star Wars: The Bad Batch – "Aftermath"
Community content is available under
CC-BY-SA
unless otherwise noted.