"Foolish Jedi! We are the best of our series! Would you expect any less aboard Count Dooku's frigate?"
―B1 battle droid to Anakin Skywalker
Count Dooku's frigate was a Munificent-class star frigate that served as the personal flagship of the leader of the Confederacy of Independent Systems.
Characteristics
Edit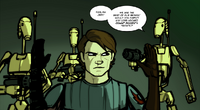 "Captain, we've spotted the remains of a Jedi starfighter ahead. We're picking up one life-sign."
"Tow it aboard and have a security detail standing ready!"
―A B1 battle droid and the B1 captain
Dooku's frigate was equipped with an escape hatch located in his meditation chamber. The floor opened to a slide shaft leading to the hangar housing Dooku's personal Punworcca 116-class interstellar sloop. The vessel was commanded by a B1 battle droid captain and crewed with top-of-the-line models of both the B1 series and B2 super battle droid series.
"Obi-Wan Kenobi. I thought I sensed an unpleasant disturbance in the Force."
―Dooku
Anakin Skywalker infiltrated this ship in his personal Delta-7B starfighter. He had rigged the ship to appear damaged and waited inside the cockpit for the crew of the ship to tow him into the hangar bay. After a short skirmish with the battle droids surrounding him, he was taken into custody after his lightsaber was shot and destroyed by blaster fire.
Obi-Wan Kenobi, wearing a space suit, then infiltrated the ship and located Skywalker in a detention cell. The two Jedi made their way to Dooku's meditation chamber and confronted the Sith Lord. Before they could capture him, Dooku slid though a hidden escape hatch leading to the hangar deck.
Known Prisoners
Edit
Appearances
Edit
↑ 1.0 1.1 1.2 1.3 1.4 1.5 1.6  "Starships and Vehicles of Revenge of the Sith" on Wizards.com (original article link, backup link)
↑ 2.00 2.01 2.02 2.03 2.04 2.05 2.06 2.07 2.08 2.09 2.10 2.11 2.12 2.13 2.14 2.15 2.16 2.17 Star Wars: Revenge of the Sith Incredible Cross-Sections
↑

West End Games
Community content is available under
CC-BY-SA
unless otherwise noted.