"Crash Course" is the sixteenth and final episode of the first season of the animated micro-series Star Wars: Forces of Destiny. It was first released as part of the first special on October 29, 2017 and it was released on Youtube on November 1.[1]
Official description
[
]
Sabine reluctantly lets Ketsu borrow her favorite speeder for a covert mission.
Plot summary
[
]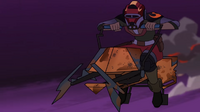 On Garel City, Sabine Wren has finished servicing and painting her speeder bike. She and Hera Syndulla then depart on a trip to rendezvous with Ketsu Onyo, a fellow member of the rebellion. Sabine sees the ride as an opportunity to test out the bike's engines. She and Hera ride to the rendezvous point. Shortly later, Ketsu arrives on her battered bike. She manages to jump off before the wrecked bike crashes into a wall and explodes. Ketsu apologizes for her lateness.
Sabine tells Ketsu that she might want to go a little easier on her bike. Hera tells Ketsu to deliver a datacard to her informant. Sabine offers to give Ketsu a ride on her speeder bike but her friend tells her that her contact insisted that she come alone. Sabine reluctantly lets Kestu borrow her bike but tells her to meet her back at the Ghost. Ketsu tests the bike before departing and compliments Sabine for its smooth handling and paint job. After Ketsu has left, Sabine sights that she liked her bike.
Later at the Ghost, Sabine is still waiting for Ketsu to turn up. Sabine tells Hera that Ketsu contacted her to inform them that their mission was a success. While Sabine wonders where her friend is, Hera tells Sabine to stop worrying. A guilt-stricken Ketsu then turns up and tells Sabine her bike "handled great for a while" before showing her friend the handlebar; implying that the bike was wrecked. While Sabine is devastated and angry, Hera counsels the younger rebel not to do anything she will regret.
Since Ketsu expresses remorse, Sabine forgives her and offers to teach her how to repair engines for the next few days. Hera offers to get the tools while Ketsu accepts Sabine's offer and the two friends reconcile.
Credits
[
]
Appearances
[
]
Sources
[
]
Notes and references
[
]