Jurassic World: Dominion Dominates Fandom Wikis - The Loop
Play Sound
"Ahahahahe!"
―Cratinus laughs
Cratinus was an Ubdurian male and the identical brother of Prashee. The pair were fond of games of chance and would use their identical appearances to swap identities during profitable scams. In 34 ABY, both brothers were present in the castle of the pirate Maz Kanata on the planet Takodana. They sat together by a fire pit playing a game and interacting with another alien before the castle was attacked and destroyed by the First Order.
Biography
[
]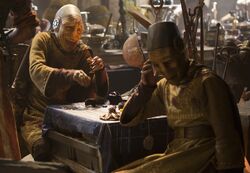 Cratinus was an Ubdurian male who ran profitable swindles with his brother Prashee, using their identical appearances to swap identities during the scams.[1] They were mainstays at the castle[3] of the pirate Maz Kanata on the planet Takodana,[1] where they cheated many unwary travelers who sat down to play with them at one of the gaming tables.[3] In the year 34 ABY,[4] they were sat at a table next to one of the castle's fire pits playing a game when the smuggler Han Solo entered the building with the scavenger Rey, the astromech droid BB-8 and the First Order deserter Finn.[2]
Kanata spotted Solo entering and cried out to him across the room, silencing all of its occupants momentarily as they turned to stare. After the room lost interest in Solo and everyone returned to their drinks, an alien approached the brothers' table and began speaking with Prashee. The alien then left and Cratinus began laughing as Prashee moved a small pouch from his side of the table to Cratinus's side. Not long after this, many patrons of the castle flooded out into the courtyard to witness the destruction of the Hosnian system by the First Order's Starkiller Base superweapon. The military forces of the First Order then attacked the castle and destroyed it.[2]
Personality and traits
[
]
Cratinus and Prashee loved games of chance[1] and were notorious swindlers and gamblers, meticulously engineering their scams.[3] They had yellow skin and black eyes.[1]
Equipment
[
]
Cratinus wore an Ubdurian traveling smock with a black cloak, a gray hat and an aurodium belt; an outfit identical to that of his brother.[1]
Behind the scenes
[
]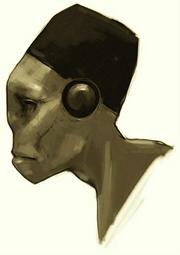 Cratinus was designed by senior sculptor Luke Fisher[5] and portrayed[6] by creature and droid puppeteer[2] Dee Tails[6] in the film Star Wars: Episode VII The Force Awakens, which was released on December 18, 2015.[7] He was not identified in the film,[2] but was named by Star Wars: The Force Awakens: The Visual Dictionary, a reference book written by Pablo Hidalgo[1] and released the same day as the film.[8]
Tails was first brought in to play one of the Hassk triplets, but these roles were ultimately assigned to other actors during the period of filming when actor Harrison Ford was recovering from a leg injury. Creature effects supervisor Neal Scanlan then decided that a different role should be found for Tails, and while they were in Abu Dhabi, his team came up with the idea of him playing a brother to Prashee, whose mask and image already existed at this stage. When Tails was first introduced to the role there was still only the image and mask of Prashee, which were ultimately given to actor Tom Bell—who played Prashee in the film—while Tails was told that his mask would be coming soon.[5]
Tails believes that Cratinus' mask captures some hints of his own laugh, and when it finally arrived the entire creature effects department came to a standstill as they watched Tails and Bell try out the costumes and practice moving around on their knees. Aidan Cook and Paul Kasey then gave the pair some advice on their performances. The pair then tried to stay in character during photo shoots and while on set in order to find their range, as they had little time to practice in front of a mirror. During filming, Tails and Bell stayed at their table in order to appear in background and covering shots.[5]
At one point Tails received a note from director J.J. Abrams telling him to turn and look at Harrison Ford then turn back and say in broken English "That's Solo"; however, this shot did not make it into the final cut of the film. Based on his work as Cratinus, Neal Scanlan vouched for Tails' talent and got him a role as the droid K-OHN in the film Rogue One: A Star Wars Story.[5]
Appearances
[
]
Non-canon appearances
[
]
Sources
[
]
Notes and references
[
]
↑ 3.0 3.1 3.2 Prashee and Cratinus in the Databank (backup link)
↑ Star Wars: Galactic Atlas dates the events of Star Wars: Episode VII The Force Awakens to 34 ABY.
↑ 5.0 5.1 5.2 5.3 Pellegrom, Dennis: Dee Tails (K-OHN). Star Wars Interviews. starwarsinterviews.com. Archived from the original on December 9, 2017.
↑ 6.0 6.1 Dee Tails (@deetails) on Twitter: "Twin Ubdurian Brothers Prashee & Cratinus aka Tom Bell & Dee Tails" (screenshot)