"You miss me? How touching."
―Crosshair, before sniping two lines of battle droids
"Crosshair" was the nickname of a clone commando who served in the Grand Army of the Republic during the Clone Wars as part of Clone Force 99. Crosshair possessed genetic mutations that gave him exceptional eyesight and because of it, he acted as a sniper, taking advantage of his marksmanship skills.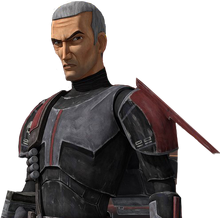 Crosshair received his nickname due to his incredible sharpshooting abilities. According to Sergeant Hunter, he was capable of shooting targets from ten kilometers away.[2] Crosshair cherished his 773 Firepuncher rifle. As a result of his sniping skills, the specialist commando had a feeling of superiority, disliking the idea of needing to work alongside unaltered clone troopers.[3]
Crosshair was also known for his crude attitude and icy approach. He had a general disdain of "regs" (jargon used by Clone Force 99, which meant "regular clone troopers") and was always the first to express criticism, usually in a very sarcastic way.[2] He had a very dry sense of humor, which often put him at odds with his boisterous teammate Wrecker. Although the two could work together quite effectively, Crosshair and Wrecker often engaged in competitive quarrels about which one could destroy more battle droids in the course of a mission. This was especially seen when Crosshair destroyed a considerable amount of battle droids within a few seconds.[4]
Thanks to his sharp eyesight, Crosshair had superior accuracy.[3]
Serving as the Bad Batch's team sniper, Crosshair utilized a customized 773 Firepuncher sniper rifle[3] in combat, though he was also armed with an DC-17 hand blaster. The clone commando wore modified Katarn-class Commando Armor with a semi-circular cutout on the right upper edge of his helmet visor, to adapt to the scope of his sniper rifle.[2]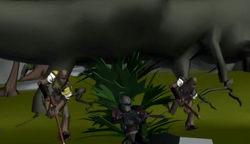 George Lucas had a very specific vision of the Bad Batch, in that he wanted a version of the The Dirty Dozen with clones. Dave Filoni sketched their appearances which Brent Friedman and Matt Michnovetz used to imagine the Bad Batch's voices and personalities. Matt and Brent worked with Dave to flesh out the characters and their story where Crosshair was based on Clint Eastwood, like a Clone version of Cad Bane.[5]
Crosshair was to appear in a four episode arc written by Michnovetz[6] which starred the Bad Batch which now included "Echo", alongside Yoda on Kashyyyk. At the "Untold Clone Wars" panel at Celebration Anaheim, Dave Filoni talked about the plot of the arc. He revealed that the characters would ride on "giant ape lizards", that were holy to the Wookiees in a religious way. In one scene Tarfful would ask the tree spirits for permission to go into battle against the enemy, which was a Trandoshan and the Separatist Alliance. To get the enemy out of some of their cities they would have to burn some of the trees. The Clones had no problem with it, but it was upsetting to the Wookiees. A part of the arc would be about the Clones and the Wookiees finding a common ground to fight the separatists. A story reel clip was shown at the panel, which showed the Bad Batch and other Wookies riding on the "ape lizards" and battle against a new beast that was based on Kinraths from the Star Wars: Knights of the Old Republic game.[7]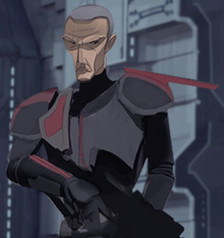 ↑  Clone Troopers in the Databank (backup link)
↑ Bad Batch Star Wars: The Clone Wars Panel | Star Wars Celebration Anaheim on the official Star Wars YouTube channel (backup link)
↑ Brent Friedman (@BFree63) on Twitter: "@MattMichnovetz wrote that arc, and he writes for Rebels!" (screenshot)
Community content is available under
CC-BY-SA
unless otherwise noted.