"He's more machine now than man, twisted and evil."
―Obi-Wan Kenobi describes Darth Vader's cybernetics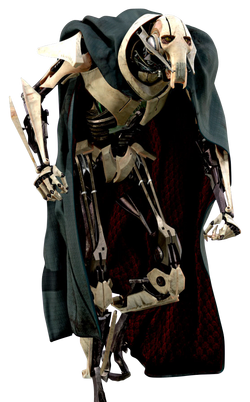 A cyborg was any living, organic being, sentient or not, whose body was enhanced with machine parts. Cybernetic augmentation was an invasive process that changed a being's brain functions and physiology in significant ways, so much so that it was usually irreversible.[1]
Cybernetic technology could be used to help repair a body or sustain a life to varying degrees. Luke Skywalker received a cybernetic hand after losing his original hand in a lightsaber duel,[2] while almost the entirety of General Grievous' body was replaced by cybernetic limbs and other body parts.[3] After falling to the dark side and becoming Darth Vader, Anakin Skywalker was severely burned on Mustafar, requiring him to live in a cybernetic suit of armor for the rest of his life. In addition, all of his limbs were amputated and required mechanical replacements.[4] The Zero Angle cantina had a cyborg bartender, Florn.[5] Guavian security soldiers were cybernetically enhanced humans that served as the enforcers of the Guavian Death Gang.[6]
C-3PO often introduced himself using the phrase "I am C-3PO, human-cyborg relations," though the term was technically a misnomer, as droids were not cyborgs.[7]
Appearances
[
]
Non-canon appearances
[
]
Sources
[
]
Notes and references
[
]
↑  General Grievous in the Encyclopedia (content now obsolete; (backup link)