Wiki Targeted (Entertainment)
Play Sound
The Darkwalker Cave was a cave located a very short distance south of the city of Dee'ja Peak on the Mid Rim world of Naboo.
History
[
]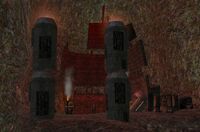 Sometime following the Battle of Yavin in 0 BBY, the cave was under the control of a criminal organization known as the Darkwalkers.[1] Among the cave's occupants included important Darkwalker members, including Bloodlord Trienial and Chief of Science Flangolial.[2] Circa 1 ABY,[3] the Darkwalkers shot down a shuttle near Dee'ja Peak in order to steal a bio-scanner. The shuttle crashed in the Gallo Mountains and the Darkwalkers plundered the wreckage.[1] A spacer working with the scientist Tanoa Vills then raided the Darkwalker Cave nearby to recover the stolen bio-scanner. Bloodlord Trienial and Chief of Science Flangolial were killed during the assault.[2] A few time later, a spacer sent by Boss Rugor Nass entered the cave to retrieve one of the pieces of a broken Gungan artifact scattered by the Ultragungans in various areas of Naboo.[4]
Behind the scenes
[
]
The Darkwalker Cave was a location in the 2003 massively multiplayer online role-playing game Star Wars Galaxies,[1] prior to the game's closure on December 15, 2011.[5]
Appearances
[
]
Notes and references
[
]
External links
[
]