Darth Phobos was a female Theelin Sith Lord.
Biography
Her holocron was located in the Jedi Temple some time after the Great Jedi Purge[1]. She also appeared as a Sith spirit and fought Vader's Secret Apprentice in the ruins of the Jedi Temple.[2] She wielded a double-bladed lightsaber,[3] and trained former Jedi Darth Desolous in the ways of the dark side.[4]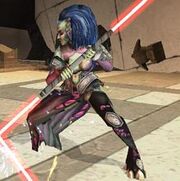 Behind the scenes
According to TheForce.Net, Phobos is "a punk looking female alien with big 80's hair", and appears in Game Pro magazine's May 2008 issue. She will be in the Wii-exclusive Jedi Temple level and a playable character in the Wii-exclusive duel mode. However, it has been recently said that Phobos will also appear in the PS2 version of the game.[3]
This may be the "Darth Phobas" who voice actress Kari Wahlgren has claimed to be playing in the game.
Appearances
Notes and references
Community content is available under
CC-BY-SA
unless otherwise noted.