"Yes… of pain he has learned much. Of knowledge, of teaching, he knows nothing."
Darth Sion, the Lord of Pain, was a Dark Lord of the Sith around 3,951 BBY. Sion was unique in that he would normally be dead if it weren't for the power of hatred embodied by the dark side, and sheer force of will that held together his body—which was damaged to the point that it consisted of burned bits and pieces, making him very intimidating. Sion commanded Sith Assassins to hunt down the Jedi Exile. He was in constant pain, and spoke with a deep, rasping voice.
Biography
"To have fallen so far and learned nothing – that is your failing."
―Kreia
When the factions of the Sith on Korriban turned on each other after Darth Malak's death and Revan's disappearance, Sion was one of the Sith Lords that escaped to the Unknown Regions of the Galaxy. It seemed he had escaped to Malachor V, where he became the apprentice of Darth Traya, a former teacher of Darth Revan when he was a Jedi. For the benefit Sion was a Sith Marauder.
Sion was a uniquely powerful Sith Lord, having learned the ways of pain in the Trayus Academy on Malachor V. Torturing and killing others helped him enhance his strength in the Force, and his ability to feed on his own pain and hatred made him all but immortal, as when he was struck down, he could always arise, feeding on his agony. He was also a lightsaber master, and arguably the most infamous and deadly Sith Assassin of the era. Sion was known to be responsible for the deaths of countless Jedi during the shadow war waged by himself and Darth Nihilus.
However, the alliance between Traya, Nihilus, and himself did not last forever. Sion and Nihilus attacked Darth Traya at the Trayus Core and as such, exiled her. Sion and Nihilus continued their shadow war by sending assassins after the last known "Jedi"—an exile who had served under Revan during the Mandalorian War.
However, Sion's old master, known as Kreia, was also searching for the Exile. Sion and his legions of assassins chased Kreia after she had acquired possession of the Ebon Hawk. The Ebon Hawk reached its destination, the Republic warship Harbinger, and called for help against Sion's warship. Sion "played dead" as his assassins turned on their cloaking field generators and boarded the Harbinger. Sion was placed into a kolto tank for observations due to his strange and unusual appearance. Suddenly, Sion's assassins de-cloaked themselves and attacked the Harbinger's crew. Sion awakened and smashed from his tank. All the while, Kreia managed to find what she was looking for on the Harbinger—the Jedi Exile, sealed in one of the cargo holds. Kreia managed to get the Exile to the Ebon Hawk and escaped. Sion commandeered the Harbinger and fired upon the Ebon Hawk as it entered hyperspace.
The Ebon Hawk, nearly destroyed, docked at the Peragus Mining Facility for much needed repairs. However, it wouldn't be long before Sion and the Harbinger found them and docked with the facility himself. Kreia immediately sensed his arrival and informed the Exile that they must leave at once. However, Kreia and the Exile, along with ex-assassin for the Sith-turned smuggler Atton Rand, had to sneak through the Harbinger to make their way into the Ebon Hawk's hangar bay while being pursued by Sion's assassins. While running, Sion managed to find them in the lower levels of the ship. Kreia allowed for the Exile and Atton to escape while she faced off with Sion. Darth Sion exchanged taunts with Kreia, who was hiding in the shadows.
"And now you run in search of the Jedi. They are all dead, save one. And one broken Jedi can not stop the darkness that is to come."
―Darth Sion
Kreia approached Sion from behind with a vibrosword, but he quickly swung round and took her hand off with his lightsaber. Sion spared Kreia and allowed her to escape, though wounded, Kreia managed to board the Ebon Hawk as it was lifting off. Sion, with the Harbinger, fired upon the Ebon Hawk once again. However, a stray shot to one of the asteroids caused the entire asteroid field to explode. Sion managed to escape and fled to Korriban.
While on Korriban, Sion encountered another Jedi—the Jedi Master Lonna Vash. Sion captured her and kept her locked away until the Jedi Exile arrived to search for her. Sion had his assassins continue to hunt her while she explored the Sith Academy. About one hour before the Exile found Vash, Sion had her brutally killed. When the Exile found Master Vash's body, she knew it was time to leave. As she attempted to leave, Darth Sion stood in her way.
"Yield to me Jedi. You will be rewarded with power greater then your wildest imaginings."
―Darth Sion to the Jedi Exile
Darth Sion wanted her death to break his old master. The Jedi Exile ran after realizing that she could not beat the Lord of Pain in mere lightsaber combat. Sion's assassins went after her as she made a run for the exit. Sion told them to stand down in that she had earned it. Sion had become intoxicated with the Exile's presence, but Sion could not abide with the feelings he had for the Exile.
After his fellow Sith Lord, Darth Nihilus, was killed by the Exile at Telos IV, Sion left Korriban and journeyed to Malachor V and the Trayus Academy. At Malachor, his master had returned as Darth Traya. Sion grudgingly accepted her back as his master. The Exile herself arrived on Malachor V to stop Kreia. Before the Exile faced off with Kreia, Sion attempted to stop her, giving her a chance to leave the academy and let the planet claim her. The Exile couldn't do that and the two fought.
"I hate you because you are beautiful to me, and in that weakness lies death."
―Darth Sion to the Exile before their battle.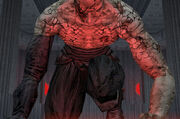 Having lived so long knowing nothing but hatred, he was glad to leave it behind for good. Interestingly enough, because of Sion's command of his own pain, saber skills, and preternatural ability to survive through the dark side, the Exile was unable to defeat him in lightsaber combat. Instead, she was forced to use her powers of persuasion to turn Sion against his own beliefs. The Exile eroded Sion's will and convinced him that Darth Traya had no more use for him, and by giving up the Force he would finally be free from the horrible pain and hatred which he had condemned himself to. Sion eventually gave in to the Jedi's influence, even telling the Exile his feelings for her, before vanishing into the light side of the Force. His final words were:
"I am glad to finally have peace... at last."
―Darth Sion
Powers and abilities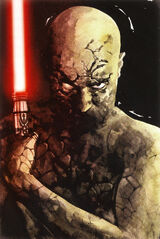 "I can die a hundred times, Exile, and still I will rise again, as strong as before."
―Darth Sion to the Jedi Exile
Sion was a master of the dark side and certainly knew how to inflict pain and torment on those unlucky enough to face him. He was an exceptionally skilled lightsaber duelist and had learned to channel his pain through the dark side, making him neigh immortal. He also used the advanced version of the Force power Drain Life, called Death Field. Sion was said to have mastered a unique style of lightsaber combat by combining aspects of Makashi, Dun Möch, and Shien; he used all of these skills with peak deadliness, making him a brutal and vicious adversary.
Unlike most Sith of the time—and, for that matter, throughout history—Darth Sion cared nothing for ruling an empire or conquering the Galaxy; his only concern was the total and utter destruction of the Jedi Order, similar to the goal of Darth Maul. This was a task which he saw to personally, with unimaginable success. Sion was considered by most to be a volatile brute—he cared nothing for teaching and knowledge—all that fueled his ambitions were his terrible pain, rage, and commitment to see the Jedi Order extinct.
The Lord of Pain despised weakness and had a respect only for raw and brutal power. He seemed to hold great contempt and disgust for the former Sith Lord, Darth Revan, preferring Malak's leadership as he stated so at one point to the Exile:
"Malak had strength, and embraced it, saw his opportunity and took it. Then Lord Revan had the chance to rule over an empire, to heal this broken galaxy and make it strong again – instead he chose to surrender it to weakness, and he ran away."
―Darth Sion
Behind the scenes
Fans have speculated that there might be a connection between "fallen Padawan" Haazen and Sion based on their appearances. There has also been speculated that Sion was the red-armored Sith with a red lightsaber whom four Jedi Masters from the Covenant saw in their visions, which—after they decided that this Sith was a future version of one of their own Padawans—led them to commit the Padawan Massacre of Taris. It should also be noted that Sion and Zayne Carrick (the only Padawan to survive the massacre) are sufficiently different in appearance and background to establish them as separate personae. The red environmental suit from this vision is later given to Alek, who is also speculated as possibly being Sion.
Darth Sion was voiced by Louis Mellis.
Like most other Sith Lords whose names begin with Darth, Sion's name suggests another source, the suffix -sion meaning break, which fits his "broken appearance." His name could also refer to the word scion, meaning heir. In this case, heir to his master, Traya, and the legacy of the Sith.
Sion, like many other characters in Star Wars: Knights of the Old Republic II, was supposed to have a few more scenes, such as a confrontation between himself and Nihilus, as well as a duel against Atton Rand. Sion would defeat Atton by cutting off his hand. Sion would then proceed to torture Atton, and make him experience true pain before he killed him, unless the player controlling Atton can defeat Sion, and from there, Atton would escape and leave Malachor with the Exile.
Sion's view of the Exile is different depending on the Exile's gender. If the Exile is male, Sion absolutely despises him and believes that he is weak, mainly because Kreia respects the Exile more. He wishes nothing more than to kill him because of that. If the Exile is a female, Sion seems to develop feelings for her, saying that she and Kreia are alike, but that the Exile is "beautiful," telling her "I hate you because you are beautiful to me." He warned her about Kreia's teachings, and even held off some of his assassins that were trying to kill her.
Sion's and HK-47's opinions of Revan and Malak were the total opposite. Sion thought Malak was the true power, who used strength and brutality to take over the Galaxy, whereas HK-47 thought Revan, his former master, was the most powerful of the two, because he relied more on tactics. In the end, HK-47's tactic of erosion of the will—which the Exile used—proved to be more useful than brute power.
Appearances
Sources
External links