Spider-Man: No Way Home Trailer Dropped - The Loop
Play Sound
Darth Vader used this green-painted Eta-2 Actis-class light interceptor during his early days as a Sith apprentice.[2]
History
[
]
"R2, stay with the ship."
―Darth Vader to R2-D2 on Mustafar
After leading the massacre on the Jedi Temple on Coruscant, the newly anointed Darth Vader flew this starfighter from the Temple to Padmé Amidala's apartment. With R2-D2 accompanying him, Vader then traveled to the volcanic planet Mustafar to eliminate the Separatist leaders. The vehicle rested on Mustafar for over a decade, after Vader's battle with Obi-Wan Kenobi left him too wounded to pilot it off of the planet.[2]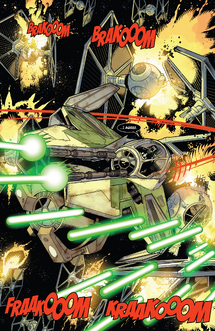 Over twenty years later,[7] Darth Vader, after escaping from the Eye of Webbish Bog with a Sith wayfinder, rested upon his old vehicle to recover. Shortly after, Ochi of Bestoon found the wounded Vader and expressed his surprise at Vader's survival.[8] Fighting and defeating the Droid Crush Pirates of Bestoon before capturing Ochi, Vader repaired the Eta-2 and used the wayfinder to travel to the Red Honeycomb Zone in order to reach the world of Exegol.[9] Once there, he was attacked by forces of the Imperial Navy deployed to stop him, but Vader used his Eta-2 to take out all attacking TIE fighters and encountered a summa-verminoth subspecies. Entering into the Red Zone by flying his Eta-2 into it, Vader experienced Force visions of the past and possible future before making it through, crashing onto Exegol. There, he and Ochi, who had been inside a pod the Sith Lord attached to the bottom of the fighter, exited on to the planet's surface, where Vader took control of the mind of the summa-verminoth using the Force.[10]
Appearances
[
]
Notes and references
[
]