"Han Solo, ha. If I'm around, you don't need that guy."
―Dash Rendar
Dash Rendar was a male smuggler who lived during the reign of the Galactic Empire. During Rendar's travels, he encountered the Wookiee Chewbacca and fellow smuggler Han Solo.[2] He was also captain of the Outrider, a modified YT-2400 light freighter.[1]
Behind the scenes
Edit
Reintroduction into Star Wars canonEdit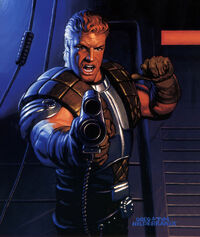 Dash Rendar was reintroduced into Star Wars canon in the 2018 journal book Solo: A Star Wars Story: Tales from Vandor, written by Jason Fry.[2]
Stories in Star Wars LegendsEdit
"We know [Rendar is] designed to be around while the swashbuckling Han is encased in carbonite, but we don't want Dash to be a carbonite copy of Mr. Solo. Our suggestion is that rather than thinking of him simply as a mercenary, Dash is more like a swaggery Top Gun-style fighter pilot. A guy with real talent but a bit of a braggart and a blowhard, too. Luke doesn't like him, not only because of this in-your-face personality but also because of the natural competitiveness between these two pilots."
―Bantam Spectra editor Tom Dupree's pre-manuscript note to Steve Perry
The character of Dash Rendar was developed for the 1996 Star Wars Legends multimedia project Shadows of the Empire and appeared in its novel,[3] comic[4] and video game incarnations.[5]
Appearances
Edit
Non-canon appearances
Edit
Notes and references
Edit