Jurassic World: Dominion Dominates Fandom Wikis - The Loop
Play Sound
"Ah, perfect. A Batuuan. I'm looking to buy an old X-34 landspeeder, I need it for parts. I heard there's one at Black Spire Station, could you help me make sure it's the right one?"
―Marak messages a traveler on Batuu
Davan Marak was a humanoid scavenger who spent time in Niima Outpost on the planet Jakku in 34 ABY, just as it came under attack from the First Order. The scavenger later posted a job listing in Black Spire Outpost on the planet Batuu, asking for someone to verify that there was an X-34 landspeeder at Black Spire Station.
Biography
[
]
"This is exactly what I needed, thanks! Here are some credits for the effort."
―Davan Marak thanks the traveler for checking the landspeeder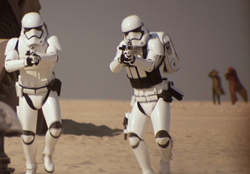 Davan Marak was a scavenger[1] who was active in Niima Outpost on the desert planet Jakku.[3] In the year 34 ABY,[4] Marak was approaching the outpost on foot alongside another individual when it came under attack by the First Order military faction, which was searching for the astromech droid BB-8.[3]
In 34 ABY[2] Marak came to need an X-34 landspeeder for parts and learned that such a vehicle could be found at Black Spire Station in Black Spire Outpost on the planet Batuu. During the First Order occupation of the world, the scavenger made a posting on the job board in the outpost and messaged an interested party, asking them to check that the speeder at the station was of the right make. After Marak's contact confirmed the model of the vehicle, the scavenger messaged them thanks and sent them one hundred credits.[5]
Personality and traits
[
]
Marak was a dark-skinned humanoid.[1]
Equipment
[
]
Marak wore a scavenger's apron over a black shirt along with white boots and a sun-shielding sedge hat.[1]
Behind the scenes
[
]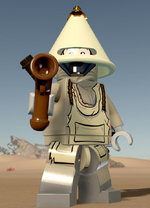 Davan Marak first appeared in the 2015 sequel trilogy film, Star Wars: Episode VII The Force Awakens. The character was not identified in the film,[3] but received a name in Star Wars: The Force Awakens: The Visual Dictionary, a reference book written by Pablo Hidalgo[1] and released in conjunction with the film.[6]
Despite Marak clearly being shown to have dark skin in The Visual Dictionary,[1] the LEGO model for the character in the 2016 non-canon video game LEGO Star Wars: The Force Awakens has fair skin. The character's clothing is also far lighter in color. The game depicts Marak wielding a staff, a thermal detonator, and a blaster pistol.[7]
Appearances
[
]
Non-canon appearances
[
]
Sources
[
]
Notes and references
[
]
↑ 2.0 2.1 2.2 The Star Wars Book dates the Battle of Batuu, which is depicted in Star Wars: Galaxy's Edge via the attraction Star Wars: Rise of the Resistance, to 34 years after Star Wars: Episode IV A New Hope. Star Wars: Galactic Atlas dates the events of A New Hope to 0 BBY, therefore the events of Galaxy's Edge, including Davan Marak's appearance in Star Wars: Datapad, must take place in 34 ABY.
↑ Star Wars: Galactic Atlas dates the events of Star Wars: Episode VII The Force Awakens, including Davan Marak's appearance, to 34 ABY.
↑ Star Wars: Datapad – "Speeder Sale. Need Inspector." (Screenshots: 1, 2)
↑ A Galaxy of Star Wars: The Force Awakens Books Coming December 18 – First Look! on StarWars.com (backup link)