She-Hulk Trailer Dropped - The Loop
Play Sound
"There isn't a thing that we do in the storytelling space that I don't check with Dave. What I find about Dave is you don't just sit down and have a discussion about plot or review characters inside the Star Wars world. You end up having meaningful, thoughtful discussions about what it is we're trying to say inside the storytelling."
Dave Filoni is an animation producer who has been involved in various ways with Star Wars: The Clone Wars, Star Wars Rebels, Star Wars: Forces of Destiny, Star Wars Resistance, The Mandalorian, Star Wars: The Bad Batch, The Book of Boba Fett and the upcoming series Star Wars: Ahsoka.[3][4]
Biography
[
]
"When Revenge of the Sith was over, I found myself in the incredible position of carrying the torch forward."
―Dave Filoni
Filoni made an appearance at Celebration IV on Sunday, May 28, 2007 with producer Catherine Winder in the Celebration Theater (Room 408AB), to discuss the beginnings of the new television series and reveal how The Clone Wars was being created. During San Diego Comic Con 2014, Filoni admitted that he knew about contradicting the Expanded Universe by establishing The Clone Wars as canon. In his defense, he said that they still included the Expanded Universe elements when they could.[5]
Filoni was one of the executive producers on Star Wars Rebels,[6] and he voiced Chopper in the series, a role which was not revealed until the series finale.[7] Filoni serves as an executive producer of the animated series Star Wars: The Bad Batch.[8]
After expressing interest in working in live-action, Lucasfilm CEO Kathleen Kennedy had Filoni visit the film sets of the sequel and anthology films to study the work of their directors. He received particular help and encouragement from Rian Johnson. Kennedy then paired Filoni up with Jon Favreau on The Mandalorian,[9] for which he serves as executive producer and has directed several episodes[10][11]—his first venture outside the realm of animation.[12] Around the debut of Star Wars Rebels Season Four, Filoni had hinted that he'd been exploring other forms of storytelling and learning from live-action directors.[13][14] (He visited the sets and studied the productions of The Force Awakens and The Last Jedi).[15]
Personal life
[
]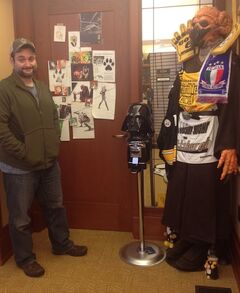 An avid Plo Koon fan, Filoni dressed up as the Jedi Master for the opening of Revenge of the Sith, giving out candy to children queuing up to watch the film.[16] Dave Filoni's office, as seen in the extra features on the Star Wars: The Clone Wars DVD, is filled with Plo Koon paraphernalia. He has a bust of Plo Koon's head, a model of Plo Koon's ship, an autographed portrait by the actor who played Plo Koon, a replica of Plo Koon's lightsaber on his desk, and his personal Plo Koon costume on display. Filoni also has a notebook-sized planner on his desk with Plo Koon's picture taped to the outside.
Works
[
]
"If you don't believe in the EU version of the story or didn't like it, then perhaps this new revelation that […] suits you better. Again a great many of the truths we cling to depend largely on our own point of view. […] In the end I have to say this: many die hard EU fans pick and choose the stories they think are canon based on what they like and what they don't like. They read a novel they like it and it's 'in,' they don't like it, and it's 'out.' […] Much effort goes into trying to word things or shoot things so that the existing EU can remain, if only at times from a certain point of view."
―Dave Filoni, on Star Wars: The Clone Wars
Filmography
[
]
| Year | Title | Contribution(s) |
| --- | --- | --- |
| 2008 | Star Wars: The Clone Wars | Director |
| 2008 | Star Wars: The Clone Wars – Rising Malevolence | Director |
| 2008 | Star Wars: The Clone Wars – Cloak of Darkness | Director |
| 2010 | Star Wars: The Clone Wars – "Bounty Hunters" | Embo |
| 2010 | Star Wars: The Clone Wars – Lethal Trackdown | Director, and co-writer with Drew Z. Greenberg and Brian Larsen |
| 2010 | Star Wars: The Clone Wars – Clone Cadets | Director |
| 2011 | Star Wars: The Clone Wars – Padawan Lost | Director |
| 2011 | Star Wars: The Clone Wars – Wookiee Hunt | Director |
| 2012 | Star Wars: The Clone Wars – "A Friend in Need" | Director |
| 2012 | Star Wars: The Clone Wars – "The Box" | Embo, Jakoli |
| 2012 | Star Wars: The Clone Wars – "Crisis on Naboo" | Embo |
| 2012 | Star Wars: The Clone Wars – "A War on Two Fronts" | Director |
| 2013 | Star Wars: The Clone Wars – "Eminence" | Black Sun leader #2, Embo |
| 2013 | Star Wars: The Clone Wars – "Shades of Reason" | Enforcer, Tour Guide Droid |
| 2013 | Star Wars: The Clone Wars – "To Catch a Jedi" | Spots Podal |
| 2013 | Star Wars: The Clone Wars – "The Wrong Jedi" | Director |
| 2014 | Star Wars: The Clone Wars – "An Old Friend" | Embo |
| 2014 | Star Wars Rebels – "The Machine in the Ghost" | Director |
| 2014 | Star Wars Rebels – "Art Attack" | Stormtrooper #1 |
| 2014 | Star Wars Rebels – "Property of Ezra Bridger" | Director |
| 2015 | Star Wars Rebels – "Path of the Jedi" | Director |
| 2015 | Star Wars Rebels – "Fire Across the Galaxy" | Director |
| 2015 | Star Wars Rebels – "The Lost Commanders" | Co-director with Sergio Paez |
| 2015 | Star Wars Rebels – "Relics of the Old Republic" | AT-AT Pilot |
| 2015 | Star Wars Rebels – "Wings of the Master" | Co-director with Sergio Paez, and voice of Phoenix #2 |
| 2015 | Star Wars Rebels – "Blood Sisters" | Rodian, Stormtrooper #2 |
| 2015 | Star Wars Rebels – "Stealth Strike" | Imperial Technician |
| 2015 | Star Wars Rebels – "The Future of the Force" | Ithorian Driver #1 |
| 2015 | Star Wars: Episode VII The Force Awakens | Additional voices |
| 2016 | Star Wars Rebels – "A Princess on Lothal" | AT-AT Driver, Stormtrooper, Stormtrooper Commander |
| 2016 | Star Wars Rebels – "The Protector of Concord Dawn" | Phoenix Three |
| 2016 | Star Wars Rebels – "Legends of the Lasat" | Stormtrooper #1, Stormtrooper Commander #2 |
| 2016 | Star Wars Rebels – "The Call" | Mining Guild Guard #2 |
| 2016 | Star Wars Rebels – "Homecoming" | Phoenix One, Stormtrooper Deck Officer |
| 2016 | Star Wars Rebels – "The Forgotten Droid" | Cargo Deck Officer, Stormtrooper #2 |
| 2016 | Star Wars Rebels – "Twilight of the Apprentice" | Director, and co-writer with Simon Kinberg and Steven Melching |
| 2016 | Star Wars Rebels: Steps Into Shadow | Rebel Trooper, Stormtrooper Guard #2 |
| 2016 | Star Wars Rebels – "The Holocrons of Fate" | Rebel Crewman |
| 2016 | Star Wars Rebels – "The Antilles Extraction" | Green Five, Imperial Officer |
| 2016 | Star Wars Rebels – "Hera's Heroes" | Scout Trooper, Stormtrooper #3 |
| 2016 | Star Wars Rebels – "Iron Squadron" | Phoenix Two |
| 2016 | Star Wars Rebels – "An Inside Man" | AT-AT Pilot #1 |
| 2016 | Star Wars Rebels – "Visions and Voices" | Rebel Trooper #1 |
| 2016 | Rogue One: A Star Wars Story | Additional voices |
| 2017 | Star Wars Rebels – "Ghosts of Geonosis" | Co-writer with Steven Melching and Matt Michnovetz |
| 2017 | Star Wars Rebels – "Trials of the Darksaber" | Writer |
| 2017 | Star Wars Rebels – "Legacy of Mandalore" | Mandalorian Warrior |
| 2017 | Star Wars Rebels – "Twin Suns" | Director, and co-writer with Henry Gilroy |
| 2017 | Star Wars Rebels – "Zero Hour" | Green Leader |
| 2017 | Star Wars Rebels: Heroes of Mandalore | Imperial Mandalorian Commander, Lead Wren Warrior |
| 2017 | Star Wars Rebels – "Flight of the Defender" | Co-writer with Steven Melching, and voice of Stormtrooper Guard #2 |
| 2017 | Star Wars Rebels – "Kindred" | Co-writer with Henry Gilroy, and voice of Scout Trooper |
| 2017 | Star Wars Rebels – "Crawler Commandeers" | Slave #2 |
| 2017 | Star Wars Rebels – "Rebel Assault" | Co-writer with Steven Melching |
| 2017 | Star Wars: Episode VII The Force Awakens | Jedi star compass design |
| 2018 | Star Wars Rebels – "Jedi Night" | Co-writer with Henry Gilroy |
| 2018 | Star Wars Rebels – "DUME" | Co-writer with Christopher Yost |
| 2018 | Star Wars Rebels – "Wolves and a Door" | Co-director with Bosco Ng, and writer |
| 2018 | Star Wars Rebels – "A World Between Worlds" | Co-director with Steward Lee, and writer |
| 2018 | Star Wars Rebels – "A Fool's Hope" | Co-director with Saul Ruiz |
| 2018 | Star Wars Rebels – "Family Reunion – and Farewell" | Co-director with Bosco Ng and Sergio Paez, co-writer with Henry Gilroy, Kiri Hart, Simon Kinberg and Steven Melching |
| 2019 | Star Wars Resistance – "The Disappeared" | Bo Keevil |
| 2019 | Star Wars Resistance – "Live Fire" | Bo Keevil |
| 2019 | The Mandalorian – "Chapter 1: The Mandalorian" | Director |
| 2019 | Star Wars Resistance – "Rendezvous Point" | Bo Keevil, Stormtrooper #3 |
| 2019 | The Mandalorian – "Chapter 5: The Gunslinger" | Director and writer |
| 2019 | The Mandalorian – "Chapter 6: The Prisoner" | Trapper Wolf |
| 2020 | Star Wars Resistance – "The New World" | Bo Keevil |
| 2020 | Star Wars Resistance – "No Place Safe" | Bo Keevil |
| 2020 | Star Wars: The Clone Wars – "A Distant Echo" | Co-writer with Brent Friedman and Matt Michnovetz |
| 2020 | Star Wars: The Clone Wars – "Gone with a Trace" | Co-writer with Charles Murray |
| 2020 | Star Wars: The Clone Wars – "Deal No Deal" | Co-writer with Charles Murray |
| 2020 | Star Wars: The Clone Wars – "Dangerous Debt" | Co-writer with Charles Murray |
| 2020 | Star Wars: The Clone Wars – "Together Again" | Co-writer with Charles Murray |
| 2020 | Star Wars: The Clone Wars – "Old Friends Not Forgotten" | Writer |
| 2020 | Star Wars: The Clone Wars – "The Phantom Apprentice" | Writer |
| 2020 | Star Wars: The Clone Wars – "Shattered" | Writer, and voice of CH-33P |
| 2020 | Star Wars: The Clone Wars – "Victory and Death" | Writer, and voice of CH-33P |
| 2020 | The Mandalorian – "Chapter 10: The Passenger" | Trapper Wolf |
| 2020 | The Mandalorian – "Chapter 13: The Jedi" | Director and writer |
| 2021 | Star Wars: The Bad Batch – Aftermath | Co-writer with Jennifer Corbett |
| 2022 | The Book of Boba Fett – "Chapter 6: From the Desert Comes a Stranger" | Director, and co-writer with Jon Favreau |
Bibliography
[
]
Other works
[
]
Sources
[
]
Meet the Producer and Director Of The Clone Wars at Celebration IV on StarWars.com (content now obsolete; backup link)
NYCC 2013: Meet the Inquisitor, the New Face of Evil in Star Wars Rebels on StarWars.com (backup link)
Star Wars Rebels: Meet Kanan, the Cowboy Jedi on the official Star Wars YouTube channel (backup link)
Star Wars Rebels: Meet Ezra, the Street-Smart Hero on the official Star Wars YouTube channel (backup link)
Star Wars Rebels: Meet Zeb, the Muscle on the official Star Wars YouTube channel (backup link)
Star Wars Rebels: Meet Sabine, the Explosive Artist on the official Star Wars YouTube channel (backup link)
Star Wars Rebels: Meet Hera, the Pilot on the official Star Wars YouTube channel (backup link)
Disney Publishing Worldwide and Random House Announce Relaunch of Star Wars Adult Fiction Line on StarWars.com (backup link)
"

Confessions!

" – Star Wars Insider 150
Star Wars Rebels: Spark of Rebellion Premieres Friday, October 3 on Disney Channel on StarWars.com (backup link)
"

Chopper Rolls Out!

" – Star Wars Insider 152
Much to Learn You Still Have: 7 Things You Might Not Know About Twi'leks on StarWars.com (backup link)
Dave Filoni Extended Interview | The Star Wars Show on the official Star Wars YouTube channel (backup link)
Star Wars: The Last Jedi Secrets Explained on the official Star Wars YouTube channel (backup link)
Solo Director Ron Howard Stops By to Give Star Wars the Arrested Development Treatment on the official Star Wars YouTube channel (backup link)
Star Wars: The Clone Wars Coming to SDCC, Comedian Paul F. Tompkins, and More! on StarWars.com (backup link)
Solo's Aliens Come to Life and Athena Portillo Joins the Resistance on the official Star Wars YouTube channel (backup link)
The Mandalorian Panel – Sunday on the official Star Wars YouTube channel (backup link)
Dave Filoni Takes The Stage At SWCC 2019 | The Star Wars Show Live! on the official Star Wars YouTube channel (backup link)
Star Wars: The Clone Wars Panel at Star Wars Celebration 2019 on the official Star Wars YouTube channel (backup link)
Dave Filoni Talks The Mandalorian, And Disney+ Is Now Live! on the official Star Wars YouTube channel (backup link)
Exclusive Behind the Scenes Look at The Empire Strikes Back and Dave Filoni Talks The Mandalorian on the official Star Wars YouTube channel (backup link)
Hera Flies Again: Vanessa Marshall on Returning as the High-Flying Pilot in Star Wars: The Bad Batch on StarWars.com (backup link)
Return of a Legend | The Book of Boba Fett | Disney + on the official Star Wars YouTube channel (backup link)
Being Boba Fett | The Book of Boba Fett | Disney+ on the official Star Wars YouTube channel (backup link)
Jon Favreau and Dave Filoni to Talk The Mandalorian at Star Wars Celebration Anaheim 2022 on StarWars.com (backup link)
Notes and references
[
]
↑ Dave Filoni on Rotten Tomatoes. rottentomatoes.com. Archived from the original on December 28, 2021.
↑ Owen, Rob: Tuned In: Pittsburgh native delves into 'Star Wars' lore (2014-10-03). post-gazette.com. Archived from the original on November 9, 2020.
↑ The Book of Boba Fett, a New Series, Coming December 2021 on Disney+ on StarWars.com (backup link)
↑ Star Wars: The Bad Batch, An All-New Animated Series, to Debut on Disney+ in 2021 on StarWars.com (backup link)
↑ Prudom, Laura: Get a Look Inside The Mandalorian's Ship: The Razor Crest - IGN First (2019-09-29). ign.com. Archived from the original on April 22, 2020.
↑ First Look at The Mandalorian | The Star Wars Show on the official Star Wars YouTube channel (backup link)
↑ Lussier, Germain: Star Wars: Rebels Dave Filoni on Its Final Season and His Future Role in a Galaxy Far, Far Away (2017-10-27). io9.gizmodo.com. Gizmodo. Archived from the original on September 21, 2018.
↑ Harloff Interviews Filoni! They Talk Future of Lucasfilm Ahead of Star Wars Rebels Finale on the Collider Videos YouTube channel (backup link)
↑ Breznican, Anthony: That Time George Lucas Asked a Guy From Pittsburgh to Join Him and Rule the Galaxy (2019-11-07). Vanity Fair. vanityfair.com. Archived from the original on January 16, 2020.
↑ Dave Filoni Extended Interview | The Star Wars Show on the official Star Wars YouTube channel (backup link)
External links
[
]