Spider-Man: No Way Home Trailer Dropped - The Loop
Play Sound
"The limitations with the technology made it difficult to be realistic because, for instance, if the Star Destroyer shows up to launch TIE fighters at you, it's not going to "piecemeal" them out three at a time. It'll swamp you with a few squadrons. From the individual starfighter pilot's point of view, though, I think they came out pretty well."
―David Wessman
David "Wotan" Wessman is a video game developer, who is best known for his work on the X-Wing computer game series. His industry career began in 1991 as a tester at LucasArts where he met Lawrence Holland and expressed his interest in joining Holland's team. He was subsequently hired as the internal test lead for the video game Star Wars: X-Wing and was a co-founder of what later became Totally Games. David soon transitioned to development, becoming a mission builder and lead writer; roles he would continue with on Star Wars: TIE Fighter. During this time he also co-authored the official strategy guides for both games, working with Rusel DeMaria and fellow mission builder David Maxwell. He was promoted to lead mission designer on Star Wars: X-Wing vs. TIE Fighter and "gameplay & story lead" on Star Wars: X-Wing Alliance.
After leaving Totally Games, Wessman was a lead or senior designer on Blood Wake (2001), Chronicles of Riddick: Escape from Butcher Bay (2004), Saints Row (2006) and Death Jr. 2: Root of Evil (2006).
In 2008 he left the game industry to teach game design at the University of Advancing Technology in Tempe, AZ. As a professor in game design he has taught at the graduate and undergraduate level, and since 2015 is a lecturer at Breda University of Applied Sciences in The Netherlands, but he also continues to develop games and his most recent effort is a hard science fiction space combat simulator called In The Black.
Biography
[
]
An avid player of all types of games, but especially video games, David "Wotan" Wessman[1] began working in the game industry in 1991, taking a job as a tester at LucasArts, then known as Lucasfilm games.[2] During his time at LucasArts, Wessman tested the adventure games Indiana Jones and the Fate of Atlantis and Monkey Island 2: LeChuck's Revenge,[3] along with Lawrence Holland's World War II flight simulator Secret Weapons of the Luftwaffe, and its expansion packs.[1]
In 1992, Wessman joined Holland's independent development team, (which would eventually become Totally Games) as the internal test lead for Star Wars: X-Wing, a Star Wars flight simulator the team were developing for LucasArts,.[2] He was joined by fellow tester and longtime friend David Maxwell. Together they both took on additional writing and mission building responsibilities and transitioned from being testers to being developers. The overall story of the game was developed by lead developers Lawrence Holland and Edward Kilham. Wessman and Maxwell were otherwise able to design their own scenarios, creating more than twice as many missions as were were required and selecting the best ones from those available to include in the final game.[4]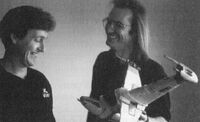 One of Wessman's primary concerns was ensuring that all missions could be beaten—when player's failed, he provided a debriefing to offer tips on where the player went wrong.[4] Following the release of X-wing in February 1993, Wessman worked with Maxwell and Rusel DeMaria to co-author X-Wing: The Official Strategy Guide. The book featured the story of the player character, Keyan Farlander, as written by DeMaria. Wessman and Maxwell contributed mission strategies and general tactics, along with most of the screenshots in the book.[4]
When the team began working on X-Wing's 1994 sequel, Star Wars: TIE Fighter, Wessman moved into working full time on mission design.[2] He continued to work with Maxwell to design missions for the game and the pair again contributed strategies to the subsequent TIE Fighter: The Official Strategy Guide.[1] Wessman remained with Totally Games until 2000, acting as lead mission designer for 1997's Star Wars: X-Wing vs. TIE Fighter and the gameplay and story lead on 1999's Star Wars: X-Wing Alliance.[2]
Star Wars bibliography

[

]
Notes and references
[
]
External links
[
]