"The limitations with the technology made it difficult to be realistic because, for instance, if the Star Destroyer shows up to launch TIE fighters at you, it's not going to "piecemeal" them out three at a time. It'll swamp you with a few squadrons. From the individual starfighter pilot's point of view, though, I think they came out pretty well."
―David Wessman
David "Wotan" Wessman is a video game developer, who worked as a tester at LucasArts before joining Totally Games and becoming one of the mission builders on the video games Star Wars: X-Wing and Star Wars: TIE Fighter. He later worked as the gameplay and story lead on Star Wars: X-Wing vs. TIE Fighter and Star Wars: X-Wing Alliance. After leaving Totally Games, Wessman was a lead or senior designer on a variety of games before entering academia in 2008. As a professor in game design he has taught at the graduate and undergraduate level at a variety of schools around the world. He is currently a lecturer at NHTV Breda University of Applied Sciences in The Netherlands.
Biography
Edit
An avid player of all types of games, but especially video games, David "Wotan" Wessman[1] began working in the game industry in 1991, taking a job as a tester at LucasArts, then known as Lucasfilm games.[2] During his time at LucasArts, Wessman tested the adventure games Indiana Jones and the Fate of Atlantis and Monkey Island 2: LeChuck's Revenge,[3] along with Lawrence Holland's World War II flight simulator Secret Weapons of the Luftwaffe, and its expansion packs.[1]
In 1992, Wessman joined Holland's independent development team, (which would eventually become Totally Games) as the internal test lead for Star Wars: X-Wing, a Star Wars flight simulator the team were developing for LucasArts,.[2] He was joined by fellow tester and longtime friend David Maxwell. Together they both took on additional writing and mission building responsibilities and transitioned from being testers to being developers. The overall story of the game was developed by lead developers Lawrence Holland and Edward Kilham. Wessman and Maxwell were otherwise able to design their own scenarios, creating more than twice as many missions as were were required and selecting the best ones from those available to include in the final game.[4]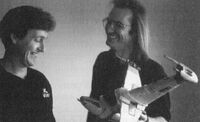 One of Wessman's primary concerns was ensuring that all missions could be beaten—when player's failed, he provided a debriefing to offer tips on where the player went wrong.[4] Following the release of X-wing in February 1993, Wessman worked with Maxwell and Rusel DeMaria to co-author X-Wing: The Official Strategy Guide. The book featured the story of the player character, Keyan Farlander, as written by DeMaria. Wessman and Maxwell contributed mission strategies and general tactics, along with most of the screenshots in the book.[4]
When the team began working on X-wings 1994 sequel, Star Wars: TIE Fighter, Wessman moved into working full time on mission design.[2] He continued to work with Maxwell to design missions for the game and the pair again contributed strategies to the subsequent TIE Fighter: The Official Strategy Guide.[1] Wessman remained with Totally Games until 2000, acting as the gameplay and story lead for 1997's Star Wars: X-Wing vs. TIE Fighter and 1999's Star Wars: X-Wing Alliance.[2]
Also, in 1999 David was the developer of two paper wargames. The first, War of 1812, was published in Strategy & Tactics magazine issue #207 in 2001. It won the Charles S. Roberts award for Best Magazine-Published Boardgame. The second, When Dragons Fight: If China Invades Taiwan was published in Command Magazine issue #54, also in 2001. It won the Charles S. Roberts award for Best Modern Era Boardgame.
In 2000, Wessman started work at Stormfront Studios, becoming lead game designer on the Xbox launch title Blood Wake. He left in 2002, and in 2003 moved to Uppsala, Sweden to work on The Chronicles of Riddick: Escape from Butcher Bay for Starbreeze Studios, before returning to the United States later that year to work as a senior designer on Saints Row for Volition. In 2005, he moved to Oakland to work on Backbone Entertainment's PlayStation Portable game Death Jr. II: Root of Evil and moved once more in 2007, taking a senior design position at Destineer in Raleigh, North Carolina. While at Destineer, he worked on a training simulation for the U.S. Intelligence Community that was intended to evolve into a commercial entertainment product, as well as design consultation on Six Days in Fallujah.[2]
In 2008 Wessman began a new career teaching game design as a professor at the University of Advancing Technology in Tempe, Arizona where he focused most of his efforts revising the curricula to reflect real world industry practice: team-based and project focused. In 2011 he led a student team to win the SaveEarthGame competition with a resource management simulation called Tellus: Save the Earth. In 2013-14 he taught at University of California, Santa Cruz as well as Cogswell Polytechnical College. As of February 2015 he is a lecturer at NHTV Breda University of Applied Sciences in The Netherlands. He has consulted on curricula and been a guest lecturer at schools such as the University of California, Berkeley, Stanford University, Ex'pression College for Digital Arts, and the Jilin Animation Institute in Changchun, China. As a founding member of the San Francisco chapter of the International Game Developers Association, he is still an active member of the game industry and frequently speaks at industry conferences, including the Game Developers Conference and the Digital Game Xpo.[2]
Star Wars bibliographyEdit
Notes and references
Edit
External links
Edit
Community content is available under
CC-BY-SA
unless otherwise noted.