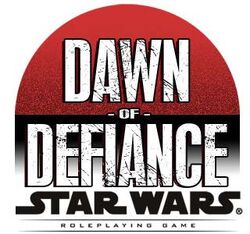 Dawn of Defiance is a campaign for the Star Wars Roleplaying Game comprising ten downloadable adventures. The first adventure, titled The Traitor's Gambit was made available in November 2007 on the Wizards of the Coast website. It is designed as one story arc that takes characters from 1st level to 20th level. The entire campaign is the equivalent of a 320+ page campaign guide, and players are able to download it for free.
Dawn of Defiance is the name given to a series of 10 linked adventures that Gamemasters can use to create an entire campaign for their players. Set in the months after the events of Revenge of the Sith, the adventures in the Dawn of Defiance campaign are designed to provide players and GMs with the iconic Star Wars Roleplaying Game experience, set against the backdrop of the tyranny of the Galactic Empire. The Dawn of Defiance campaign takes the heroes all the way from 1st level up to 20th level and features an ongoing storyline that progresses over the course of the campaign. Each adventure can also be played individually and should provide the heroes with ample challenges to gain two levels per adventure. Gamemasters should feel free to use the Dawn of Defiance adventures either as an entire campaign or as fillers for their own home campaigns.
The Dawn of Defiance campaign is set during the period between Star Wars: Episode III Revenge of the Sith and Star Wars: Episode IV A New Hope. The exact dates are left vague so that Gamemasters can choose to run the adventure at any specific timeline they prefer within those dates. However, the campaign makes the basic assumption that the first adventure, The Traitor's Gambit, begins just a few months after the end of the Clone Wars.[1]
The overarching plot is about learning and then causing the failure of the Imperial Sarlacc Project, that is about a massive new starship 12 kilometers long—many times larger than a Star Destroyer, that is supposed to provide a critical advantage for the Empire over whatever other threat or rebellion may arise, in a galaxy where opposition to the Empire is extremely weak.
| Number | Title | Author | Release date |
| --- | --- | --- | --- |
| 1 | The Traitor's Gambit | Rodney Thompson | November 29, 2007 |
| 2 | A Wretched Hive | Rodney Thompson | December 20, 2007 |
| 3 | The Queen of Air and Darkness | Rodney Thompson | February 28, 2008 |
| 4 | Echoes of the Jedi | Abel G. Peña and Jean-François Boivin | April 3, 2008 |
| 5 | The First to Strike | Owen K.C. Stephens | June 13, 2008 |
| 6 | The Core of Corruption | Sterling Hershey | August 6, 2008 |
| 7 | A Reckoning of Wraiths | Gary Astleford | November 7, 2008 |
| 8 | The Gem of Alderaan | Gary M. Sarli | February 5, 2009 |
| 9 | Sword of the Empire | Rodney Thompson, John Jackson Miller[2] | May 7, 2009 |
| 10 | Jaws of the Sarlacc | Rodney Thompson | October 28, 2009 |
Community content is available under
CC-BY-SA
unless otherwise noted.