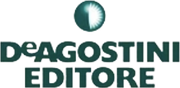 DeAgostini, or Planeta DeAgostini, is an international publisher with its head office in Barcelona, Spain. From 2002 to 2005, De Agostini published The Official Star Wars Fact File in Spain, Italy, the United Kingdom, Australia, New Zealand, South Africa, the Netherlands, Poland, Germany, France (as Star Wars "Les Dossiers Officiels"), Malta, México and later in Argentina, where only the first issue reached the stores. De Agostini began releasing weekly issues of another series of The Official Star Wars Fact File with new content in April 2013, and yet another revamped version in 2014.
Ediciones Altaya, more commonly known as Altaya, was a publishing company founded in 1993. It was absorbed by Planeta DeAgostini in 2009, and is focused on publishing products for Spanish and Portuguese-speaking nations as well as maintaining a presence in markets within other European countries.[1] Starting in 2020, Altaya published a reference book series, titled Star Wars Encyclopedia, planning to have about 82 books. In 2021, Altaya is set to publish Star Wars: Ships and Vehicles.
Community content is available under
CC-BY-SA
unless otherwise noted.