Wiki Targeted (Entertainment)
Play Sound
"We call it the Death Star. There is no better name, and the day is coming soon when it will be unleashed."
A Death Star was a gargantuan space station armed with a planet-destroying superlaser.
Death Stars
[
]
DS-1 Battle Station
[
]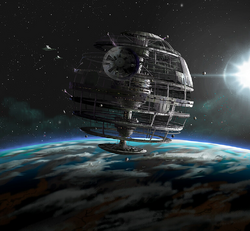 The DS-1 Orbital Battle Station[9] was originally designed by the Geonosians before the Galactic Republic and later the Galactic Empire took over the project.[4] However, the plans for the battle station were stolen by the Rebel Alliance from Scarif,[5] leading to its destruction at the Battle of Yavin, but not before it unleashed its planet-destroying cannon on Alderaan[8] and Jedha City.[4]
DS-2 Death Star
[
]
After the destruction of the first Death Star, the DS-2 Death Star was the second and final Death Star constructed by the Galactic Empire and was designed to be more powerful than the original. During the Battle of Endor, the Death Star II's energy shield was destroyed and the Rebels used the unfinished superstructure of the battle station against it, destroying the weapon as they had its predecessor.[7]
Appearances
[
]
Non-canon appearances
[
]
Sources
[
]
 Ackbar in the Encyclopedia (content now obsolete; (backup link)
 Alderaan in the Encyclopedia (content now obsolete; (backup link)
 Alderaan cruiser in the Encyclopedia (content now obsolete; (backup link)
 Biggs Darklighter in the Encyclopedia (content now obsolete; (backup link)
 Death Star in the Encyclopedia (content now obsolete; (backup link)
 Endor in the Encyclopedia (content now obsolete; (backup link)
 Galactic Empire in the Encyclopedia (content now obsolete; (backup link)
 Imperial shuttle in the Encyclopedia (content now obsolete; (backup link)
 Lando Calrissian in the Encyclopedia (content now obsolete; (backup link)
 Mon Calamari star cruiser in the Encyclopedia (content now obsolete; (backup link)
 Nien Nunb in the Encyclopedia (content now obsolete; (backup link)
 Rebel Pilots in the Encyclopedia (content now obsolete; (backup link)
 Tarkin in the Encyclopedia (content now obsolete; (backup link)
 X-wing starfighter in the Encyclopedia (content now obsolete; (backup link)
 Y-wing starfighter in the Encyclopedia (content now obsolete; (backup link)
"A Trip to the Light Side"—Star Wars Insider 152 (Picture only)
(Set: 75093 Death Star Final Duel)
Star Wars Archaeology Panel | Star Wars Celebration Europe 2016 on the official Star Wars YouTube channel (backup link)
Star Wars Helmet Collection 1 (Databank A-Z: Ask Aak–Stass Allie; Helmets: Darth Vader, Master of the Dark Side; Weapons & Uniforms: Imperial High Command)
Star Wars Helmet Collection 10 (Databank A-Z: Chewbacca–Cloud City; Helmets: Emperor's Royal Guard; Weapons & Uniforms: Imperial Dignitaries)
Star Wars Helmet Collection 12 (Databank A-Z: Cosians–Dagobah; Helmets: Imperial Gunner; Highlights of the Saga: The Death Star)
Star Wars Helmet Collection 14 (Databank A-Z: Dengar–Domino Squad; Highlights of the Saga: The Second Death Star)
Star Wars Helmet Collection 16 (Databank A-Z: E-11 Blaster–Cornelius Evazan; Helmets: 501st Legion Stormtroopers)
Star Wars Helmet Collection 20 (Databank A-Z: Saw Gerrera–Commander Gree; Weapons & Uniforms: Leaders of the Rebel Alliance; Highlights of the Saga: The Capture of the Tantive IV)
Star Wars Helmet Collection 26 (Databank A-Z: Imperial Future Council–Inquisitorius; Helmets: Y-wing Pilot; Weapons & Uniforms: Yavin Base)
Star Wars: Build Your Own R2-D2 1 (Building the Galaxy: Designing R2-D2, Part 1; Droid Directory: R2-series Astromech Droids, Part 1)
Star Wars: Build Your Own R2-D2 2 (Building the Galaxy: Designing R2-D2, Part 2; Droid Directory: 3PO-series Protocol Droids, Part 1)
Star Wars: Build Your Own R2-D2 3 (Building the Galaxy: Motion Control Filming; Understanding Robotics: Printed Circuit Boards)
Star Wars: Build Your Own R2-D2 4 (Building the Galaxy: Filming R2-D2, Part 1) (Picture only)
Star Wars: Build Your Own R2-D2 5 (Building the Galaxy: Filming R2-D2, Part 2) (Picture only)
Star Wars: Build Your Own R2-D2 8 (Building the Gaalxy: The Weapon of a Jedi; Droid Directory: Imperial Mark IV Sentry Droid)
Star Wars Helmet Collection 29 (Databank A-Z: Jelucan–Lord Junn; Highlights of the Saga: The Empire Strikes Back!)
Star Wars Helmet Collection 34 (Databank A-Z: Davish Krail–Kuat Drive Yards; Helmets: Death Star Trooper; Weapons & Uniforms: Citizens of Alderaan; Highlights of the Saga: Alderaan Survives!)
Star Wars Helmet Collection 35 (Databank A-Z: Kyber Crystals–Laser Cannons; Highlights of the Saga: Escape from Utapau)
Star Wars Helmet Collection 42 (Databank A-Z: OOM-9–Viceroy Bail Organa; Highlights of the Saga: Infiltrating Starkiller Base)
Star Wars Helmet Collection 46 (Databank A-Z: Providence-class–Raxus; Weapons & Uniforms: Heroes of the Resistance)
Star Wars Helmet Collection 49 (Databank A-Z: Serenno–Anakin Skywalker; Weapons & Uniforms: Creators of the Death Star; Highlights of the Saga: Battle on the Beach)
Star Wars Helmet Collection 51 (Databank A-Z: Soulless One–Super Battle Droids; Weapons & Uniforms: Dark Side Servants)
 Star Wars: Legion – Core Set (Card: Force Choke) (Reissued in Emperor Palpatine Commander Expansion) (Picture only)
 Star Wars: Legion – Core Set (Card: Force Reflexes) (Reissued in Clone Wars Core Set, Upgrade Card Pack) (Picture only)
 Star Wars: Legion – Core Set (Card: Jedi Mind Trick) (Reissued in

Clone Wars Core Set

) (Picture only)
Star Wars: Build Your Own X-Wing 1 (Creating a Starship Fleet: Ralph McQuarrie – The Man Who Drew Star Wars; Starfighter Aces: Luke Skywalker – Savior of the Rebel Alliance; Rocket Science: Fighter Design)
Star Wars Helmet Collection 53 (Databank A-Z: Tantive IV–Tatooine; Helmets: Nien Nunb; Weapons & Uniforms: The Adventures of Nien Nunb; Highlights of the Saga: Operation Yellow Moon)
Star Wars Helmet Collection 55 (Helmets: Tank Trooper; Weapons & Uniforms: Saw Gerrera's Partisans; Highlights of the Saga: Target: The Holy City)
Star Wars Helmet Collection 56 (Databank A-Z: Tractor Beams–Tri-Fighters; Weapons & Uniforms: Rogue One Commandos; Highlights of the Saga: Infiltrating the Citadel)
Star Wars Helmet Collection 57 (Databank A-Z: Trident Assault Ship–Turbolasers; Helmets: Wedge Antilles)
Star Wars Helmet Collection 71 (Databank A-Z: Zam Wesell–Wexley; Helmets: General Merrick; Weapons & Uniforms: Blue Squadron; Highlights of the Saga: The Battle of Scarif)
The Death Star | Star Wars Galaxy of Adventures Fun Facts on the official Star Wars Kids YouTube channel (backup link)
The First Order | Star Wars Galaxy of Adventures Fun Facts on the official Star Wars Kids YouTube channel (backup link)
Every Language in Star Wars Movies | Star Wars By the Numbers on the official Star Wars Kids YouTube channel (backup link) (Picture only)
Star Wars Helmet Collection 79 (Helmets: Jek Porkins; Weapons & Uniforms: Rebel Leaders at Yavin 4; Highlights of the Saga: The Battle of Scarif)
Disney Gallery: The Mandalorian: Making of Season Two (as graffiti)
Star Wars Bust Collection 1 (Star Wars Universe: Darth Vader; Behind the Cameras: How the Death Star Was Created)
Star Wars Bust Collection 2 (Star Wars Universe: Stormtroopers; Behind the Cameras: Evolution of the Stormtroopers)
Lando | Star Wars A to Z on the official Star Wars Kids YouTube channel (backup link)
"Return to Kamino" Episode Guide on StarWars.com (backup link) (Picture only)

Art Prints

(Pack: The Duel: Kylo Ren) (backup link)

Art Prints

(Pack: The Duel: Rey) (backup link)
Star Wars: The Black Series (Pack: Galen Erso) (backup link)
 Admiral Wullf Yularen in the Databank (backup link)
 Alderaan in the Databank (backup link)
 Alderaan Cruiser in the Databank (backup link)
 A-wing Fighter in the Databank (backup link)
 B-wing Fighter in the Databank (backup link)
 Bail Organa in the Databank (backup link)
 Bespin in the Databank (backup link)
 Battering Ram Cannon in the Databank (backup link)
 Biggs Darklighter in the Databank (backup link)
 Bright Tree Village in the Databank (backup link)
 C-3PO (See-Threepio) in the Databank (backup link)
 Chewbacca in the Databank (backup link)
 Cloud City in the Databank (backup link)
 Death Star in the Databank (backup link)
 Death Star II in the Databank (backup link)
 Director Orson Krennic in the Databank (backup link)
 Emperor's throne room in the Databank (backup link)
 Galactic Empire in the Databank (backup link)
 Galactic Senate in the Databank (backup link)
 Imperial Star Destroyer in the Databank (backup link)
 Kef Bir in the Databank (backup link)
 Lando Calrissian in the Databank (backup link)
 Medal of Yavin in the Databank (backup link)
 Millennium Falcon in the Databank (backup link)
 Proton Torpedo in the Databank (backup link)
 Rebel Alliance in the Databank (backup link)
 Rebel Pilots in the Databank (backup link)
 Scout Troopers in the Databank (backup link)
 sea skiff in the Databank (backup link)
 Sith in the Databank (backup link)
 stormtroopers in the Databank (backup link)
 The Force in the Databank (backup link)
 TIE fighter in the Databank (backup link)
 Wedge Antilles in the Databank (backup link)
 Wicket W. Warrick in the Databank (backup link)
 Wookiee in the Databank (backup link)
 X-wing Starfighter in the Databank (backup link)
 Y-wing Starfighter in the Databank (backup link)
 Yavin 4 in the Databank (backup link)
Notes and references
[
]