"It is protected by an energy shield which is generated from the nearby forest moon of Endor. The shield must be deactivated if any attack is to be attempted."
―Admiral Gial Ackbar, regarding the assault on the second Death Star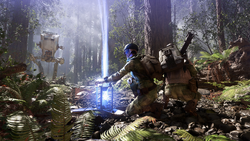 A deflector shield generator, or simply called a shield generator, was a device which was used to create a deflector shield, such as a ray shield.[1] Deflector shield generators were used to create protective shields for starships, vehicles, personnel and droids.
The Galactic Empire based a SLD-26 planetary shield generator on the forest moon of Endor.[2] This shield provided protection for the Empire's powerful Death Star II superweapon and, so long as it was active, made the weapon invulnerable to the attacks of the Rebel Alliance forces.[1]
Appearances
Edit
Non-canon appearances
Edit
 "Defenders of Peace" Episode Gallery on StarWars.com; images #18, 20
 "Defenders of Peace" Concept Art Gallery on StarWars.com; images #7, 9
 "Landing at Point Rain" Episode Gallery on StarWars.com; images #2, 17
 "Orders" Episode Gallery on StarWars.com; image #12
 "Crisis on Naboo" Episode Gallery on StarWars.com; image #7
 Droideka in the Encyclopedia (link now obsolete; backup link) (First identified as Deflector shield generator)
 Gungan Grand Army in the Encyclopedia (link now obsolete; backup link)
 Mon Calamari Star Cruiser in the Encyclopedia (link now obsolete; backup link)
 Naboo Royal Starship in the Encyclopedia (link now obsolete; backup link)
 Retail Caucus droid in the Encyclopedia (link now obsolete; backup link)
 Umbaran crawler tank in the Encyclopedia (link now obsolete; backup link)
 Admiral Ackbar in the Databank (backup link)
 Ahsoka Tano in the Databank (backup link)
 AT-ST biography gallery on StarWars.com; images #3, 8
 C-3PO (See-Threepio) in the Databank (backup link)
 Chewbacca in the Databank (backup link)
 Clone Captain Rex Biography Gallery in the Databank (backup link); image #2
 Darth Sidious Biography Gallery in the Databank (backup link); image #19
 Death Star II in the Databank (backup link)
 Droideka in the Databank (backup link)
 Ewok in the Databank (backup link)
 Endor in the Databank (backup link)
 Endor biography gallery on StarWars.com; images #1, 2, 5, 8, 12
 Fambaa in the Databank (backup link)
 General Madine in the Databank (backup link)
 General Veers in the Databank (backup link)
 Gungan Grand Army in the Databank (backup link)
 Hammerhead Corvette in the Databank (backup link)
 Han Solo in the Databank (backup link)
 Han Solo Biography Gallery in the Databank (backup link); images #22, #22, 24, 25
 Hoth biography gallery on StarWars.com; images #1, 6, 8
 Mon Calamari star cruiser in the Databank (backup link)
 Naboo Royal Starship in the Databank (backup link)
 Princess Leia Organa in the Databank (backup link)
 R2-D2 in the Databank (backup link)
 Rebel Alliance in the Databank (backup link)
 Rebel Alliance biography gallery on StarWars.com; images #14, 15, 16
 Scout Troopers in the Databank (backup link)
 Shield Generators in the Databank (backup link)
 Stormtroopers in the Databank (backup link)
 Stormtroopers biography gallery on StarWars.com; image #15
 Umbaran crawler tank in the Databank (backup link)
 Wicket W. Warrick in the Databank (backup link)
 X-wing Starfighter in the Databank (backup link)
Notes and references
Edit