"Naboo is fertile ground for COMPNOR's message. A local merchant, Delios Krindel, wishes to form a grassroots organization supporting us. But aliens—even his own employees!—have threatened his life for his beliefs. Tut, tut. Will you escort this brave, loyal citizen here safely?"
―Zogor Sturm
Delios Krindel was a Human male merchant on Naboo who lived during the time of the Galactic Civil War.[1]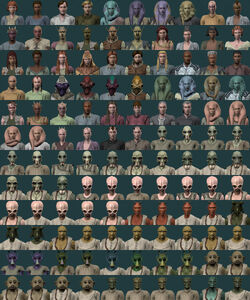 Dialogue pertaining to Delios Krindel appeared in the directory tree files for the 2003 massively multiplayer online role-playing game Star Wars Galaxies: An Empire Divided. However, he never actually appeared on the video game's live servers as a proper non-player character.[1]
↑ 1.0 1.1 1.2 1.3 1.4  Star Wars Galaxies: An Empire Divided directory tree files
Community content is available under
CC-BY-SA
unless otherwise noted.