Derren Flet was an architect who worked for Jabba Desilijic Tiure.
Biography
Edit
Flet worked as Jabba's chief architect.[2] The Hutt had him commission the Khetanna and his fleet of skiffs from the Ubrikkian Corporation.[1] Flet also designed additions to his palace on Tatooine, focusing on the dungeons.[1] Flet provided Jabba with almost everything he wanted, making the palace function as both a stately manor and fortress; however, he failed to provide adequate space for Jabba's prisoners, leaving the existing dungeons intact. This made Jabba so furious that he had Flet killed immediately.[2][3]
Behind the scenes
Edit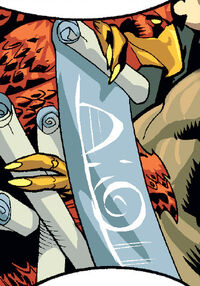 Jabba's architect from Star Wars: Republic: Outlander may be the same character as Derren Flet. An explicit connection between them has not yet been established in canon, although both are considered famous[2][4] and Jabba has only been referenced as having a single architect.[3]
Notes and references
Edit
Community content is available under
CC-BY-SA
unless otherwise noted.