"I should think that you Jedi would have more respect for the difference between knowledge and wisdom."
―Dexter Jettster
Dexter "Dex" Jettster, nicknamed Dexi Jet,[3] was a male Besalisk with a colorful background who lived on the planet Coruscant and was the owner of Dex's Diner.[2] Serving mostly hard workers from the area, the diner offered home-style cooked meals and freshly brewed ardees ("Jawa juice"). Jettster worked as the cook and employed two waitresses, Hermione Bagwa and her WA-7 waitress droid partner, FLO.[4]
It was shortly before the Clone Wars that Jedi Knight Obi-Wan Kenobi came to Dex's Diner to see if his old friend, Jettster, could identify a poisoned dart. Though few even knew of the planet Kamino, Jettster did from his days as a prospector on Subterrel and was able to identify the dart as originating from Kamino. Furthermore, he knew of the native inhabitants, the Kaminoans, who were cloners of some repute and kept to themselves but were welcoming to those who brought credits. Jettster gently chided his old friend Kenobi who as a Jedi should have put more faith in another person's wisdom than the knowledge of the Jedi Archives.[5]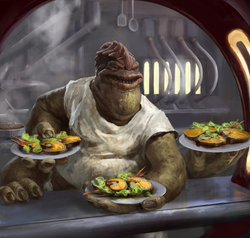 Before the Clone Wars, Dex's Diner was known to have the best nerfburgers ever, and people from all over the galaxy traveled to Coruscant to eat at Dex's. Unfortunately, not all of Jettster's clientele was trustworthy, as he was. Thieves sometimes stole nearby, so Jettster enlisted the help of his Jedi friend, Obi-Wan Kenobi. Kenobi and Jettster set up a sting in the diner itself to stop the robberies. When the thief, Tri Tellon, pickpocketed a trinket from Kenobi, Jettster and Kenobi tracked Tri to her hideout that she shared with another rogue, Magreda. Jettster now owed a favor to Kenobi, one that would be paid.[6]
It was right before the Clone Wars began that Jettster was approached by Kenobi, who wanted to know if Jettster could identify a poison dart. Jettster was able to identify the dart, which was from the planet Kamino. Jettster and Kenobi exchanged friendly banter, and then Kenobi left the diner.[5]
Jettster traveled to Athus Klee to investigate rumors of cybernetic augmentation and cloning done by criminal syndicates. He discovered the Crimson Dawn was advertising for workers to mine ore in their ore hub but were illegally modifying them so they could work harder and more efficiently. After six days in the jungle, he found the site and took macrobinocular scans as evidence. He rescued one worker. Once back in the city, he contacted a friend on Coruscant who sent a ship and promised to bring the evidence to the Council of Labor Abuses.[3]
By 4 ABY,[7] Dex's Diner was defunct.[8]
Jettster was 1.88 meters tall, with a brown-black mustache, yellow eyes, and tan-brown skin.[2]
Dexter Jettster was voiced by Ronald Falk in Attack of the Clones.[5] He was originally written to be married to his waitress, Hermione Bagwa.[9]
↑  Dex's Diner in the Databank (backup link)
↑ According to Star Wars: The Rise of Skywalker: The Visual Dictionary, Temmin Wexley and Norra Wexley were reunited on Akiva 30 years before the Hosnian Cataclysm." Since Star Wars: Galactic Atlas dates the Hosnian Cataclysm to 34 ABY, their reunion in Aftermath took place in 4 ABY.
↑  Bagwa, Hermione in the Databank (content now obsolete; backup link)
Community content is available under
CC-BY-SA
unless otherwise noted.