"Thank you, Ottilie. Have you been attentive to Dok-Ondar?"
"Very."
―Qi'ra and Ottilie
Dok-Ondar[2] was an Ithorian male[1] collector who operated an antiquities shop[3] in Black Spire Outpost on the planet Batuu on the edge of Wild Space in the Outer Rim. According to a rumor, he was willing to trade any treasure if the price was right.[1] In 10 BBY,[4] Dok-Ondar was present on First Light, the yacht operated by Crimson Dawn crime lord Dryden Vos, while Vos met with Tobias Beckett and Han Solo. Qi'ra, Vos' top lieutenant, wanted to ensure that Dok-Ondar was being well attended to.[2]
Behind the scenes
Edit
"There's a reason Dok-Ondar's name ripples far and wide in the Star Wars universe. He's a mysterious Ithorian who is the proprietor of the most notorious antiquities shop in the galaxy. And every item has a story behind it. Some more dangerous to listen to than others."
―Ethan Sacks on Dok-Ondar
Dok-Ondar was announced as a character that will make appearances in the upcoming theme park land Star Wars: Galaxy's Edge at the Walt Disney Parks and Resorts panel at the D23 Expo on July 16, 2017. The themed lands are set to open in 2019, first at Disneyland in Anaheim, California and then at Walt Disney World in Orlando, Florida.[1] Dok-Ondar takes the form of an animatronic that cast member attendants will interact with, asking how much it will take to part with certain items.[5]
Within the Star Wars canon, Dok-Ondar was first mentioned in the 2018 Star Wars Anthology film Solo: A Star Wars Story.[2]
Appearances
Edit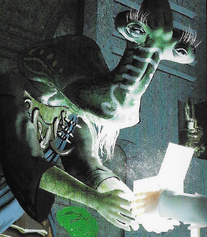 Notes and references
Edit
↑ 1.0 1.1 1.2 1.3 1.4 1.5 Inside the Magic (2017-07-16). Star Wars: Galaxy's Edge name, details announced for Walt Disney World, Disneyland - D23 Expo 2017. YouTube. Retrieved on July 16, 2017.
↑  Marvel Journeys to Batuu in New Star Wars: Galaxy's Edge Comic – Exclusive on StarWars.com (backup link)