Dok-Ondar's Den of Antiquities was located in Black Spire Outpost on the planet Batuu. Its proprietor was the Ithorian collector Dok-Ondar.[2]
Collection
Edit
Dok-Ondar was an avid collector of antiques and any other oddities that would interest him, including weapons, armors, animals, plants, droids, and even remains of sentient beings.[3] He amassed his vast collection in his travels and with the aid of his employees, scavengers, mercenaries, bounty hunters and any others who were willing to take on his quests.[2][3] His expansive collection of antiquities and valuables were almost innumerable, making his store resemble a small museum with buyable treasures. He will also loan out his wears and keep track of them via holographic documents.[3]
Behind the scenes
Edit
Dok-Ondar's Den of Antiquities is one of the gift shops at Star Wars: Galaxy's Edge, specializing in high end collectibles related to Jedi and Sith lore such as statues, historic lightsabers, and holocrons. An animatronic of Ondar can also be found in the shop, with cast member attendants interacting with him.
The Twi'lek Ark inside the store was based on the Ark of the Covenant from the first Indiana Jones film: Raiders of the Lost Ark. Its depiction here bears a greater resemblance to the artifact from the film. The "blue snaggletooth" ashes are a reference to the original Kenner action figure of the background character Zutton from Star Wars: Episode IV A New Hope which depicted him as blue.
Appearances
Edit
Non-canon appearances
Edit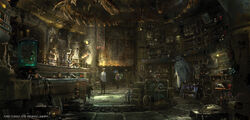 External links
Edit
Notes and references
Edit
↑ 3.00 3.01 3.02 3.03 3.04 3.05 3.06 3.07 3.08 3.09 3.10 3.11 3.12 3.13 3.14 3.15 3.16 3.17 3.18 3.19 3.20 3.21 3.22 3.23 3.24 3.25 3.26 3.27 3.28 3.29 3.30 3.31 3.32 3.33 3.34 3.35 3.36 3.37 3.38 3.39 3.40 3.41 3.42 3.43 3.44 3.45 3.46 3.47 3.48 3.49 3.50 3.51 3.52 3.53 3.54 3.55 3.56 3.57 3.58 3.59 3.60 3.61 3.62 3.63 3.64 3.65 Star Wars: Galaxy's Edge – Dok-Ondar's Den of Antiquities has backstory elements that, though not directly published for the public, are officially canon details that can be obtained verbally from cast members working in the store.
Community content is available under
CC-BY-SA
unless otherwise noted.