Dorovio Bold[1] was a human female who flew as a Rebel pilot in the Starfighter Corps of the Alliance to Restore the Republic's Fleet during the Galactic Civil War against the Galactic Empire. She was present for the briefing held aboard the MC80A Home One Type Heavy Star Cruiser Home One by the Alliance High Command planning the Battle of Endor, an attack on the Empire's DS-2 Death Star superweapon above the moon of Endor. Bold had fair skin, brown eyes and black hair. She wore a Rebel flight suit to the briefing.[2]
Behind the scenes
Edit
Dorovio Bold was portrayed by Vivienne Chandler in Star Wars: Episode VI Return of the Jedi,[2] which was released on May 25, 1983.[3] As well as her appearance in the briefing, footage of the character in a cockpit during the Battle of Endor was also filmed, but not used in the final cut of the movie. Bold was not named in the film itself, but received identification in the Star Wars Legends reference book Star Wars: The Complete Visual Dictionary, which was released on September 25, 2005. The name was then confirmed to be canon in the reference book Star Wars: The Visual Encyclopedia, which was released on April 4, 2017.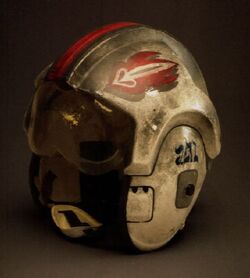 Bold's helmet first appeared as Luke Skywalker's blast shield helmet in A New Hope,[4] and the prop was again reused as Darnell Reggs' helmet in the Legends video game Rebel Assault II: The Hidden Empire.[5] A helmet of a similar design was used by pilots Nozzo Naytaan and Attico Wred in 2016's Rogue One: A Star Wars Story.[6]
Appearances
Edit
Notes and references
Edit
Community content is available under
CC-BY-SA
unless otherwise noted.