She-Hulk Trailer Dropped - The Loop
Play Sound
The double-bladed lightsaber, also called a saberstaff or lightstaff, was a lightsaber variant that featured a blade emitted from both ends. Several variants on the type existed, including the hinged double-bladed lightsaber, the split saber, the lightsaber pike, and the double-bladed spinning lightsaber. According to the mythical Qel-Droma Epics, double-bladed lightsabers dated back to a Sith Lord named Exar Kun.
Description
[
]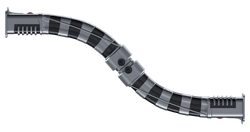 The double-bladed lightsaber was, simply, a lightsaber with blade emitters on both ends. Such a weapon could be wielded like a typical single-bladed lightsaber if only one blade was ignited.[1] This lightsaber style had several variants: Hinged double-bladed lightsabers effectively consisted of two single-bladed lightsabers joined with a hinge at the ends. Notable wielders of this saber style included Pong Krell[5] and the Jedi Temple Guard.[8] Temple Guards also used lightsaber pikes, which had a much longer handle and shorter blades compared to typical double-bladed lightsabers.[9]
Split sabers had handles that detached, allowing their owners to fight with either one double-bladed weapon or two single-bladed weapons as they pleased.[10][11]
The Imperial Inquisitorius used distinctive double-bladed spinning lightsabers, which had relatively short handles and a ring around which the active blades could spin, allowing their wielders to even fly in certain locations.[12] However, the ring was also a weakness, as cutting it would instantly destroy the weapon. This weakness was used against the Grand Inquisitor on two occasions, the second leading to his death.[13][14]
History
[
]
The existence of double-bladed lightsabers dated back to the mythical Sith Lord Exar Kun of the Qel-Droma Epics.[15]
During the High Republic Era, Jedi Knight Keeve Trennis made use of a green double-bladed split saber[16], whilst the Jedi Master and Wayseeker Orla Jareni wielded a hinged double-bladed lightsaber that produced white blades.[17]
The Dathomirian Zabrak Sith Lord Darth Maul wielded a red double-bladed lightsaber he created himself.[1][18] Maul's lightsaber was damaged when he was defeated by Obi-Wan Kenobi during the Battle of Naboo.[1] Savage Opress, Maul's brother, also wielded a red double-bladed lightsaber he received from Count Dooku during his brief stint as the Sith Lord's apprentice.[19] When Opress recovered Maul from the junk planet Lotho Minor, Maul only had one half of his old lightsaber. He wielded it as a single-bladed lightsaber for a time,[20] but by the time of the Siege of Mandalore, he had rebuilt it into a double-bladed weapon. However, he lost the saber for good when he was captured by Ahsoka Tano during the Siege.[21]
A weapon that previously belonged to a different apprentice,[22] Count Dooku's personal assassin and apprentice Asajj Ventress had a pair of curved-hilt lightsabers that could be joined together at the hilt into a single weapon by a locking mechanism, becoming a double-bladed lightsaber. However, she rarely wielded her sabers in that fashion.[23] This was a configuration known as a split saber, one that was also fielded by Jedi such as Cal Kestis.[24]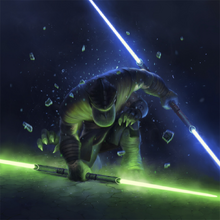 During the Clone Wars, Besalisk Jedi Master Pong Krell wielded dual-hinged double-bladed lightsabers, one blue-bladed and one green-bladed, which could fold at the middle.[5] The Lasat Jedi Master Jaro Tapal also made use of a double-bladed lightsaber throughout the Clone Wars and to defend himself and his Padawan during the execution of Order 66, though the weapon was sundered in half by clone blasterfire.[24] The Jedi Temple Guard wielded a similar weapon, the yellow double-bladed lightsaber pike.[9] A yellow double-bladed lightsaber was also used by the Zygerrian Jedi Master Tosan.[25]
The Imperial Inquisitors, dark side adepts tasked at identifying and hunting down Jedi following Order 66, fought using their unique version of the weapon. Their red double-bladed spinning lightsabers could also be used as regular single-bladed lightsabers.[6]

During the Imperial Era, Maul used another double-bladed lightsaber, which could be disguised as a cane and bore strong visual similarities to the lightsabers wielded by members of the Inquisitorius.[12] Maul wielded this lightsaber until his death on Tatooine at the hands of his old enemy Kenobi a few years before the Battle of Yavin.[26]
While searching for the wayfinder on Kef Bir in 35 ABY, Rey fought a vision of herself as a Sith. In the vision, her dark side counterpart wielded a hinged double-bladed lightsaber with red blades.[27]
Behind the scenes
[
]

The double-bladed lightsaber first appeared in the Star Wars canon in the 1999 film Star Wars: Episode I The Phantom Menace.[1] It was originally conceived by writer Tom Veitch and artist Chris Gossett for the Star Wars Legends comic book series Star Wars: Tales of the Jedi.[28] Gossett has said he thought of lightsabers as the personal "honor weapons" of the Jedi, and would be more customized to suit personal preference rather than standardized for all.[29]
During the development of Star Wars: Episode VII The Force Awakens, screenwriter Michael Arndt became really interested in the motif of "fire and ice" and wanted to have one character wielding a double-bladed lightsaber, with one side red and the other blue.[30]
Appearances
[
]
Non-canon appearances
[
]
Sources
[
]
Notes and references
[
]