Jurassic World: Dominion Dominates Fandom Wikis - The Loop
Play Sound
Doug Chiang is a Chinese American illustrator and art director who has worked on several major Star Wars projects. Born in Taiwan and raised in Michigan, Doug Chiang joined Industrial Light & Magic and was later selected by George Lucas to head the art departments of The Phantom Menace and Attack of the Clones. As of 2021, he has since become vice president and executive creative director at Lucasfilm, responsible for overseeing designs for all new Star Wars franchise developments, such as the sequel trilogy and anthology films, theme parks, games, and the upcoming Obi-Wan Kenobi television series.
Biography
[
]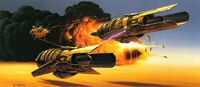 In 1989, Chiang joined Industrial Light & Magic as a Visual Effects Art Director and worked on a number of major effects ILM projects.
He left ILM in 1995 to serve as the Design Director for The Phantom Menace. Around this time, he also helped design some of the spaceships for the Star Wars: Shadows of the Empire multimedia project.[2]
Chiang returned as Concept Design Supervisor for Attack of the Clones and as a concept artist for Star Wars: Episode VII The Force Awakens.[3] He is currently one of the members of the Intellectual Property Development Group.[4]
Sources
[
]
Coruscant Development on StarWars.com (content now obsolete; backup link)
The Look of Episode I: A Talk with Doug Chiang on StarWars.com (content now obsolete; backup link)
"

From Concept to Screen

" – Star Wars Insider 39
Doug Chiang Lecture on StarWars.com (content now obsolete; backup link)
"Ralph McQuarrie & Doug Chiang" - Star Wars Insider 50
NYCC 2013: Meet the Inquisitor, the New Face of Evil in Star Wars Rebels on StarWars.com (backup link)
World Building: Doug Chiang on Creating Sullust for Star Wars Battlefront – Exclusive Interview on StarWars.com (backup link)
Much to Learn You Still Have: 7 Things You Might Not Know About Sullustans on StarWars.com (backup link)
Much to Learn You Still Have: 8 Things You Might Not Know About Geonosians on StarWars.com (backup link)
Designing an Empire: Doug Chiang on Imperial Architecture in Rogue One on StarWars.com (backup link)
That's No Moon: 5 Behind-the-Scenes Details of CASIS' Star Wars Mission Patch on StarWars.com (backup link)
Star Wars Goes To Space, Force Friday II, and X-wing Kirigami! on the official Star Wars YouTube channel (backup link)
From McQuarrie to Chiang: Highlights from 40 Years of Lucasfilm Star Wars Holiday Cards on StarWars.com (backup link)
Doug Chiang: The Evolution of Star Wars Design - Designing Episode I Live Panel at SWCC 2019 on the official Star Wars YouTube channel (backup link)
Star Wars: Phantom Menace 20th Anniversary Celebration Live Panel on the official Star Wars YouTube channel (backup link)
"There is a Strength in Asian Culture": A Conversation with Lucasfilm Legend Doug Chiang on StarWars.com (backup link)
Clones at 20 | Concept Artist Roel Robles on the Design Origins of Count Dooku's Unique Lightsaber Hilt on StarWars.com (backup link)
Star Wars Celebration LIVE! - DAY 2 on the official Star Wars YouTube channel (backup link)
Star Wars: Attack of the Clones 20th Anniversary Celebration | Star Wars Celebration Anaheim 2022 on the official Star Wars YouTube channel (backup link)
SWCA 2022: 8 Things We Learned from the Star Wars: Attack of the Clones 20th Anniversary Panel on StarWars.com (backup link)
Star Wars Celebration LIVE! - DAY 3 on the official Star Wars YouTube channel (backup link)
The Story Behind Lucasfilm and Volkswagen's Fantastic Obi-Wan Kenobi–Inspired Vehicles on StarWars.com (backup link)
Build My Droid Contest | Obi-Wan Kenobi | Disney+ on the official Star Wars YouTube channel (backup link)
Behind the Scenes of the Obi-Wan Kenobi Series! on the official Star Wars YouTube channel (backup link)
Notes and references
[
]
↑ 1.0 1.1 1.2 "There is a Strength in Asian Culture": A Conversation with Lucasfilm Legend Doug Chiang on StarWars.com (backup link)
↑ The Secrets of Star Wars: Shadows of the Empire, Part 4: Battle Zones, II. Battleships
External links
[
]