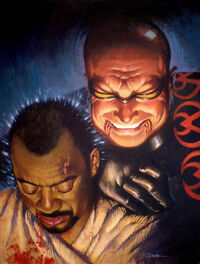 Drain Knowledge was a dark side ability used to extract knowledge out of a sentient without his or her consent.
Beyond simple reading of thoughts, the Drain Knowledge ability disrupted the Force to steal deep memories and information in a violent and merciless way. Such a process might damage the subject psychologically.
Darth Vader used this ability against Luke Skywalker in Star Wars Episode VI: Return of the Jedi, learning that Luke had a sister (Leia Organa).
Jerec used this ability against Qu Rahn, learning that the location of the Valley of the Jedi rested with the dead Morgan Katarn.
Kyp Durron (while under the influence of Exar Kun) may have used this ability to rip or otherwise remove scientific knowledge (pertaining to the Sun Crusher) from the mind of Qwi Xux.
Jacen Solo used it on former Queen Mother Ta'a Chume to find out if she had dealings with the Dark Nest to kill his child, Allana.
Darth Talon may have used this ability to extract information on Princess Marasiah Fel from Imperial Knight Elke Vetter.
Sources